Waste management at the Cordyceps collection sites
Jul 2, 2020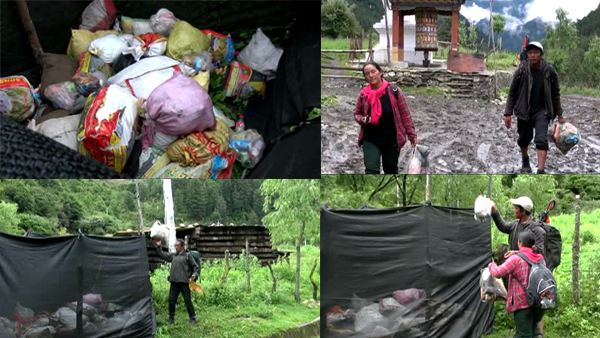 Cordyceps collectors in Bumthang are returning home and this time, they are not just coming back with the prized fungus but every collector is also bringing back their own waste from the mountains. This is following a new initiative the authorities in Bumthang started from this season.
They made it mandatory for collectors to bring back at least five kilograms of non-degradable waste from Cordyceps collection sites. And to ensure this, the authorities collected Nu 1,000 from each collector as a security deposit.
Tired and drenched in rain, collectors finally reach home after a month-long hunt for Cordyceps in high alpine mountains. Along with their baggage, everyone also brought back their share of waste. As they return, they are screened for flu at Khaktang checkpoint and records of the amount of waste they brought are maintained. They finally dump their waste in an enclosure at Nangsiphel.
Tshewang Dema, a Cordyceps Collector from Chhoekhor Gewog in Bumthang, says the new system will have a good impact on the environment and will change the habit of collectors. "Without such a system, people don't bring back their wastes. They just leave it at the campsites and some pack the garbage in sacks and tuck them in between rocks, which would later be scavenged and scattered by dogs and other wild animals. This was affecting the yak herders there and the environment as well. But this year, due to the new rule, people are not just taking care of their own waste but they are also picking up papers and plastics they see on their way," she said.
"I think this is a good initiative as there won't be much waste left in the wild after the harvesting period is over," added Choeten Dakpa, also Cordyceps Collector from the same gewog.
"Compared to the early 2000s when people were first issued harvesting permits, in recent years, with repeated awareness programs targeted at reducing wastes at the collection sites conducted, people have become mindful not to scatter wastes everywhere. Moreover, this year, with the new regulation, the collection areas are much cleaner," said Kencho Norbu, the Tshogpa of Nangsiphel_Zangling_Zhabjethang under Chhoekhor Gewog in Bumthang.
"The places where Cordyceps collectors pitch tents are grazing grounds for yaks and when people litter the places, yaks consume the wastes which gradually lead to death. This has been a hassle for the herders. However, this year people are bringing all the wastes, even the ones tucked between the rocks. So it is a very good initiative," said Tashi, a Cordyceps Collector from Chhoekhor.
"Since people have to bring back 5 kilograms of wastes each, not a single person can be seen throwing their wastes. Some even collect the papers and food wrappers thrown by other people," added Yeshey, also a Cordyceps Collector from the same gewog.
However, people say five kilograms of wastes per individual is a tough ask."If we don't pick the trash that's already thrown along the way in the past, it would be difficult for us to produce five kilos of waste from this year's trip alone. Even when we put the extra pair of shoes and the few socks we take during the trip among the wastes, it only comes to around 2 kilograms. During a time like this when every penny is invaluable for our livelihoods, it would be of so much benefit to us if the authorities refund our money entirely because we tried bringing back everything," said Tshewang Dema.
"We are not sure if we would get our security deposit back but five kilograms is seriously too much to ask. The wastes from our ration and snacks only come around one kilogram when we gave them to the officials at the checkpoint for weighing. I had to pick up all the old litters to make it five," added Choeten Dakpa.
"Some people say it is literally impractical to produce five kilograms of waste just from a month-long harvesting season by each person. However, what the Dzongkhag and Gewog administrations are aspiring is to bring back all the wastes that have already been piling up in the meadows," the Tshogpa of Nangsiphel_Zangling_Zhabjethang said.
The Bumthang Dzongda and Chooekhor Gup said they set the amount of waste that needs to be collected high as a strategy to bring back the old wastes scattered in the collection sites by the collectors themselves. Bumthang Dzongda and Wangchuck Centennial National Park's Chief Forestry Officer also said the quantity will be reduced next year after assessing how clean the collection areas become.
The security deposits will be refunded after the harvesting season is over on 5th July. However, Chhoekhor Gup said the deduction procedure will be upheld and the deducted amount will be kept in the Gewog's Current Deposit account. Nu 200 will be deducted for every kilogram the collectors come short of. The Gewog office collected Nu 655,000 in total as a security deposit.
Kipchu