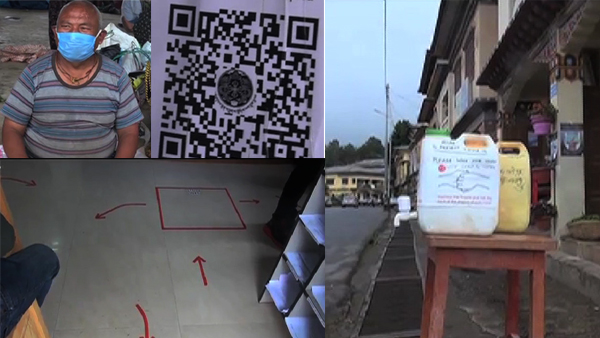 In an effort to ensure that the highest safety standards are followed in Damphu, a three-day multi-stakeholder meeting has decided to implement some mandatory safety measures from July 1. This follows concerns that the easing of some of the restrictions by the government may make people complacent towards safety and vulnerable to local transmission.
The mandatory measures include the use of facemask, Druktrace App, marked floors for physical distancing, and installation of handwashing facilities.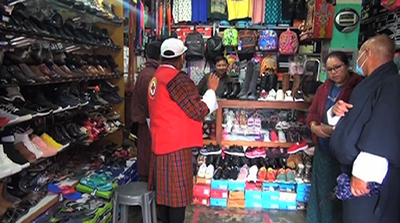 A team comprising of RBP, Health, Desuup, Bhutan Red Cross Society, and Damphu Municipal Office recently went around all the shops and offices in Damphu town to create awareness on the safety measures.
The team found that while most of the shops and offices within Damphu town have implemented all the safety measures but there were some who were yet to start.
Sr. District Health Officer, Lobzang Tshering, said that residents in Damphu town have stepped up with all COVID-19 measures, however, due to the prolonged pandemic, people tend to relax over time. "So we reminded them to reinstate all the COVID-19 safety measures and informed them that it was compulsory to use facemasks and Druktrace App."
 The team also said that the individual's role in combating the pandemic has been decreasing over time.
Desuung Coordinator, Sonam Yodzer, said that in March when the country reported its first COVID-19 report, everyone was equally concerned and were practicing all safety measures. "But as the pandemic prolongs, people are becoming complacent and ignorant of the safety measures. Moreover, it is very difficult to deal with people coming from other districts when they stop here for lunch and loiter around. The outsiders are reluctant to follow instructions since we don't know each other."
Red Cross Society volunteer, Nidup Tshering, said that they also sensitized all bus and taxi drivers to follow proper safety measures.
 According to the team, defaulters will be dealt with as per the law of the country and the directives of the government.
Desuup Chado Wangmo said that as the government lifts some of the COVID-19 measures from July, there is a risk that people may relax and the situation may normalize. "So we have reminded the general public that this would be our last reminder and if found failing to abide by the safety measures of the COVID-19, they will be dealt with strictly."
All customers and vendors visiting the Sunday Vegetable Market in Damphu town will also have to practice safety measures and will be screened before entering the market.
Damphu town is the main trading centre in Tsirang Dzongkhag and also a popular place to stop for meals for people traveling to and from Gelegphu.
Pema Tshewang