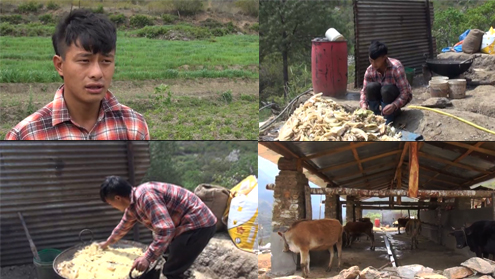 Thinley Dorji, 24, from Maenbi Gewog in Lhuentse is among the growing numbers of young people in the country, who are finding success in entrepreneurship.
After completing class 12 in 2017, he did not qualify for higher studies and had been taking up painting works in the village.
 Thinley Dorji started his dairy business in 2019 with financial support from his family. Tarayana Foundation and Agriculture Research and Development Center in Monggar also supported him.
His elder brother, Thinley Jamtsho, helped him start the dairy business.
"He was spending his time unproductively so I asked him about his interest. He immediately said that he wanted to start a dairy farm and vegetable cultivation. He has been doing well," said Thinley Jamtsho.
Thinley Dorji now earns a monthly income of over Nu 30,000 by selling dairy products in the locality. "I have no educational qualification to work as a civil servant, so I started a dairy farm to become financially independent. I also wanted to set an example in the village by not keeping my land fallow," he said.
He is now planning to expand his business and start large-scale vegetable cultivation. He said that the government has inspired him to increase his production amid the Coronavirus pandemic.
"The country's economy is in a bad shape right now. So should the country face any shortage of vegetables and dairy products, I am ever ready to supply," he said.
 Thinley Dorji is currently waiting for the approval of Nu. 500,000 loan from National CSI Development Bank to expand his business.
Tashi Tshering, the focal person from National CSI Bank in Lhuentse, said that the loan documents have been sent to the Head Office in Paro for approval and it would be approved soon.
Sonam Tshering