Government's restriction on vegetable imports triggers panic buying at CFM
Mar 25, 2020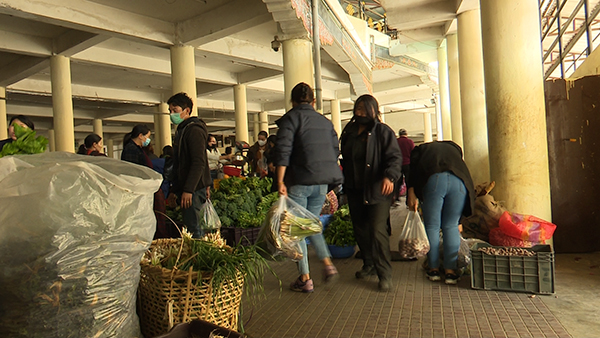 The government's decision to restrict the import of vegetables and fruits as a temporary measure to control COVID-19 triggered panic buying of vegetables at the Centenary Farmers Market (CFM) in Thimphu today.
Thousands of people from all walks of life rushed to the market to stock-up on vegetables and fruits.
A customer, Phuntsho Wangdi, said that he was worried seeing many people buy vegetables and he also decided to purchase a month's stock.
Another customer, Nidup, shared that he heard vegetables and fruits would not be available from tomorrow and that's why he rushed to the vegetable market despite the fact that people were asked to avoid crowded places.
A vegetable vendor, Jasodha Sharma, who was unaware of the government's decision, said that import restrictions would affect their business and they may have to close down their stalls if the government does not support them.
Meanwhile, the government is urging people not to panic and asking them not to hoard goods and products.
Speaking to BBS, the Agriculture Minister, Yeshey Penjor said, "The move is to help reduce the risks of the COVID-19 virus from spreading. That is why we have decided to impose this control measure on vegetables and fruits for the time being."
The Agriculture Minister said the government had a meeting with all the 20 Dzongdas and they have come to a consensus that each Dzongkhag will supply vegetables to major towns such as Thimphu and Phuentshogling.
Lyonpo said that the import restriction is also because Bhutan Agriculture and Food Authority is spraying disinfectants on all goods entering Bhutan and it cannot be done on open items.
Regarding increasing price, he said this is the time for people to support and cooperate with the government. "I have already informed the people to sell the products at a reasonable rate, when I visited the vegetable market last time," he said.
The Agriculture Minister said that people should start home gardening to enhance self-sufficiency and to keep themselves at home.
He also said that the government is working on measures to control COVID-19 and ensuring food sufficiency.
Tshering Dendup