Fostering a creative and innovative culture- respecting intellectual property
Mar 5, 2020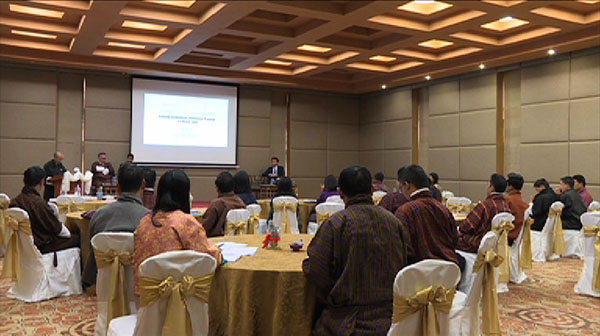 Not many are aware of or have a culture of respecting intellectual property and intellectual property rights. So to heighten the level of awareness regarding intellectual property and to educate individuals and companies about intellectual property registration, the Jigme Singye Wangchuck School of Law organised a two-day workshop on intellectual property in Thimphu which ended today.
So why should you be aware of Intellectual Property and Intellectual Property rights? Experts say education around protecting Intellectual Property is important and timely for Bhutan where technology and technological innovations are in the evolving stage. Intellectual property plays an important role in fostering a creative and innovative culture.
"Following the end of the two-day seminar, we are confident that Bhutan will be set up with the right Intellectual Property (IP) foundation to take advantage and to really set it on itself on the world stage. As technology shifts from just what we usually think as computer programmes and hardware to every business is now a tech business like a bank or a car. As technology evolves into almost every part of our lives, having a robust IP system to reward that development and to elevate Bhutan's prominence in the tech community is going to be first and foremost," said Bijal Vakil, from White & Case LLP based in the US.
"We have had an opportunity to meet with a number of people today and it is clear that Bhutan is a burgeoning field of technology and IP law is the very core aspect of the law that protects technology and STEMs. There is already a lot of great efforts by the government and even the law school is doing. And we are hoping as part of our efforts to bring in more awareness of Intellectual Property as it applies in the world market and how it operates in the global space and how further educate and illuminate aspects of IP law that Bhutan could further develop on," added Kirupa Pushparaj, the Director of IP for Square Inc. at San Francisco.
The participants said the lessons from the workshop would help them in relaying to their clients and the general public regarding intellectual property henceforth.
"I feel it is very timely for us. As of today we do not know where and how laws related to intellectual property work in the country. As being a private practising lawyer, we have to fulfil the expectations of our clients. As of now, I have never come across any case related to Intellectual Property. But time is changing and so is everything, anything could come up any time. So this is very timely," said Sonam Yangden, a Private Practising Lawyer.
"For our entrepreneurs, people in general Intellectual Property is very important because it tells about the intellectual minds, what one can do for the benefit of the country or what one can invent and get the government protect his ideas," shared Prakash Rasaily, an Intellectual Property Agent at the Dept. of Intellectual Property.
"It is very important to know about IP and from the workshop where we have facilitators from the US we would learn a lot from them and then be able to share with others and our clients hereafter," added Ngawang Choden, also a Private Practising Lawyer.
Workshops like this would go a long way in helping Bhutan enforce its laws surrounding intellectual property. Bhutan has two Acts, the Industrial Property Act and Copyright Act to protect innovations, trademarks and copyrights but enforcement is a challenge as many are not aware of intellectual property.
Phub Gyem