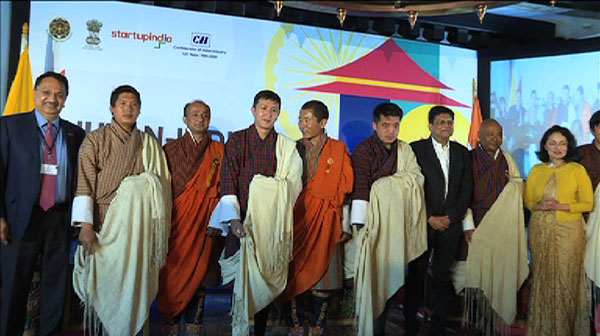 Five local entrepreneurs were awarded an exposure visit to the entrepreneurial ecosystem of India after winning the 'Facets of Entrepreneurship' competition today. Impressed by the ideas pitched yesterday by 15 Bhutanese entrepreneurs, the Union Minister of Commerce and Industry of India, Piyush Goyal announced that thirty more entrepreneurs will get the same opportunity.
The entrepreneurship programme titled 'Bhutan-India Start-up summit 2020' is first of its kind and is aimed at entrepreneurship development and creation of start-ups.
Fifteen Bhutanese entrepreneurs pitched their business ideas to Indo-Bhutanese jury members yesterday in Thimphu. The jury selected five suitable young entrepreneurs based on their start-up pitching. Bhutan Herbal tea, Bhutan Organic Farm, Laykha Dairy Delights, Green Pigment Arts and Green Road were the winners of the pitching competition. The opportunity to visit and interact with experts from India is a first time experience for all the Bhutanese entrepreneurs.
"My business is called as Laykha Dairy Delights and It is a firm based in Paro that produces yoghurt out of milk. we make two types of yoghurt, one is fruit based and the other one is pure yoghurt. The opportunity that we got is very huge and I am thankful to the government of India and Bhutan. We can share and exchange our experiences and a lot of experts in the field of entrepreneurship has come here today. We cannot meet such personalities even by paying," said Tashi Dhendup Dorji, the founder of Laykha Dairy Delights.
"We are a certified organic firm by the Ministry of Agriculture. What sets aside our product from the rest is that we make it organic from the start from cultivating tea plants to packaging. The support we are getting from the Government of India and Bhutan is very precious. We won't get such an opportunity time and again, so I am very grateful for the chance," added Rinzin Wangchuk, the founder of Bhutan Herbal Tea.
All the entrepreneurs with anticipation during a question hour session got an opportunity to ask the Union Minister of Commerce and Industry who is also the Union Minister of Railways in India, the challenges and way forward to a successful entrepreneurial journey. The Minister impressed with the ideas announced that 30 more Bhutanese entrepreneurs will have the chance to visit Indian entrepreneurial ecosystems. He also announced that the first Confederation of Indian Industry office in collaboration with the Economic Affairs Ministry will be opened in Thimphu soon.
Tshering Dendup