Bhutan's first Space Week starts
Feb 17, 2020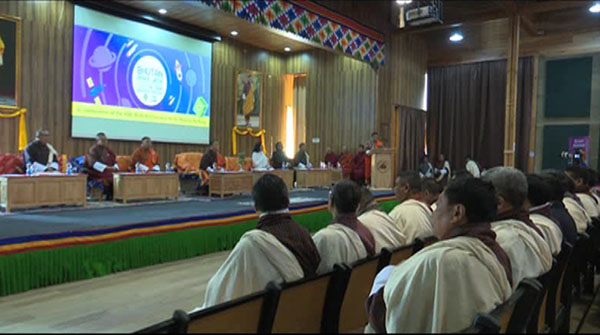 Bhutan entered into the world of space science and technology by launching its first satellite in 2018. So in celebration of Bhutan's space journey and to commemorate the 40th birthday of His Majesty The King, the Ministry of Information and Communications launched Bhutan's first Space Week today.
Prime Minister Dr Lotay Tshering, Cabinet Ministers along with dignitaries attended the launch.
Since the launch of Bhutan's first satellite, Bhutan-1, it garnered a lot of interest. But there were no initiatives directly targeted to enhance that curiosity. Bhutan Space Week is a platform to reach out and educate people especially youths about space science and technology.
"Just a couple of years ago, there was no space, science and technology in Bhutan. It was something that people really didn't think about and for some people not even heard about. After starting our country's first space programme, there has been a lot of interests and enthusiasm generated amongst the general public especially the youth. So space and satellite project or the programme of Bhutan is not just about satellites and the stars but it's much more than that and it's all about inspiration and expanding your horizon and reaching for the stars," said Yeshey Choden, an Engineer with the Department of Information Technology and Telecom at MoIC.
The Space Week started off with a seminar and will continue throughout the week with a lot of activities targeted to promote and spark interest in space science and technology amongst the young minds.
"When I ask them what do they want to be in the future, they say future scientists of Bhutan. So I think this is directly addressing the idea of inspiring and nurturing our youth so that we are not only consumers of technology today but so that we also develop new technology, have inventions coming out of some part of Bhutan. So that's the ultimate goal and Bhutan Space Week is just one step towards reaching that goal," she added.
The government has allocated Nu 305 M for space programme under the 12th Five Year Plan.
Sonam Pem