Need for a motorable bridge in Kakani village, Samdrup Jongkhar
Feb 14, 2020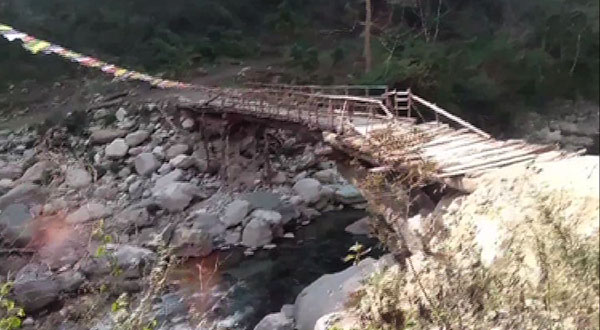 To address the issue of rural-urban migration, having the basic infrastructure in place in remote areas is an important factor. But many villages in Bhutan still long for road, bridge, power and health facilities. One such place is Kakani village under Martshala Gewog in Samdrup Jongkhar.
They have a farm road but without a motorable bridge, they remain cut off during summer. The farm road reached Kakani in 2018. It takes about three hours to reach Kakani from Martshala gewog centre. But Ritshong River divides the gewog centre from Kakani.
For now, a temporary wooden bridge serves the purpose for more than 600 people. Safety takes a back seat since there is no option. But during summer, such a bridge does not stand a chance.
"Locals contributed labour to construct the temporary wooden bridge. The bridge was damaged by heavy rain last year and we again maintained it. It is just for light vehicles. We are in need of a motorable bridge urgently," said Kelzang Jamtsho, from Martshala Gewog in Samdrup Jongkhar.
"Without a bridge, we are facing a lot of problems during the summer. Right now we are using that wooden bridge for transportation but in summer we cannot," added Yeshi Dorji, from the same gewog.
"We are in need of a bridge here. The swollen river damages the bridge and we have to build one every time," said Tshewang Drakpa, also from the same gewog.
According to the Martshala gup, Sangay Wangchuk, a survey has been done and the gewog administration has proposed for a budget. Until then, people there have to make do with the temporary wooden bridge.
Kinley Wangchuk