India's Chandrayaan 2 lost contact moments before reaching the Moon's south pole.
Sep 7, 2019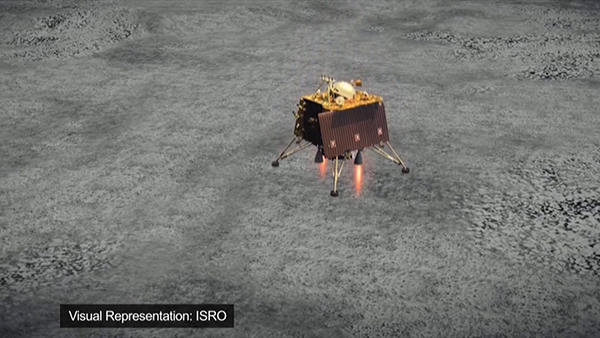 The Indian Prime Minister, Narendra Modi, has told the scientists at the Indian Space Research Organization (ISRO) that he is proud of them despite Chandrayaan 2 losing contact moments before reaching the Moon's south pole.
The landing manoeuvre was carried out early this morning. A group of students from Bhutan, upon the invitation of the Indian Embassy, also watched the landing attempt at the ISRO centre in Bangaluru.
Officials say the Chandrayaan-2 approached the Moon as normal until an error occurred about 2.1 km from the surface. Chandrayaan-2, which reached the Moon's orbit on August 20, was on a controlled descent onto the Moon's surface since then. Speaking after the event, the Indian prime minister said that when it comes to India's space programme, the best is yet to come.
"There are new frontiers to discover and a new place to go to. We will rise to the occasion and scale newer heights of success. To our scientists, I want to say, India is with you," said Narendra Modi, the Prime Minister of India.
While at the ISRO's Bengaluru headquarters, the Indian prime minister also met with the Bhutanese students. The Indian prime minister, after his speech to the scientists, was also seen hugging an emotional ISRO chief Kailasavadivoo Sivan.
India would have been the fourth nation to make a soft landing on the Moon. Their first Moon mission- Chandrayaan-1, in 2008, carried out the first and most detailed search for water on the lunar surface using radars.
Sherub Dorji