Promoting badminton in schools
Sherub Dorji, Samtse

Aug 12, 2019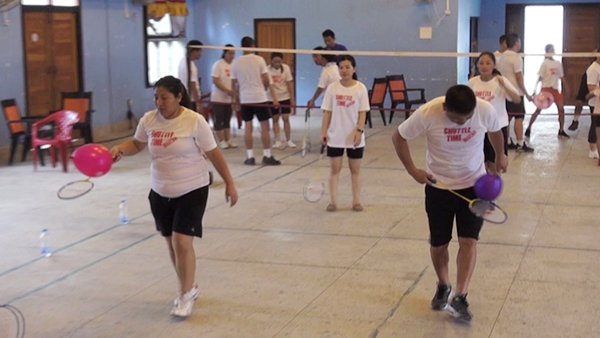 Shuttle time Bhutan, an interactive training for teachers to spread the game of badminton ended in Gomtu, Samtse, yesterday. The two-day training saw 25 participants from three schools in Phuentshogpelri Gewog.
The Bhutan Badminton Federation organized the training.
Teachers from Gomtu Higher Secondary School, Phuentshopelri Primary School, and Gashinggaon Primary School were among the participants. The teachers were introduced to the game of badminton and its basics.
"The main aim and objective is to make badminton a popular sport in the country. The Badminton World Federation, also with their mission and vision is to make badminton popular sport in the world," said Dorji, Coach, Bhutan Badminton Federation.
 For most of these teachers, it was their first time playing the game. However, they are hopeful of using the skills and new knowledge learnt.
"Until now, I have just played with my friends and some of my friends encouraged me. In this two days programme, I leant how to move my body, how to play with the racket, how to hold the racket and some terms in playing badminton. I guess I will be able to guide my students to play badminton," said Dawa Norbu, a teacher of Gomtu HSS.
"I knew only about 3-5% of what badminton actually is and then after attending this I learnt quite a bit. Now, still, I think I have quite a lot to learn. As teachers, our main motive is to engage our children and then direct them in the right path so I think badminton is one of the games where we as teachers can use it to engross our children and save them from going into wrong directions," added Rinchen Wangmo,  a Teacher of  Phuentsopelri Primary School.
Yesterday, the teachers tried the skills they learnt with about a hundred children from the locality. Coaching them basic exercises, hand-eye coordination, and fun games.
"Besides playing badminton I also learnt how to improvise things and help the students learn badminton. The challenges we face in school is lack of facilities and lack of trainers but we also learnt how to use the things around and improvise it and make rackets, make shuttle, and train our children and not let their passion die," Dawa Norbu said.
Teachers say though they learnt various ways to use everyday objects to teach the sport, more of similar training are required.
"To implement this back in school I think I need some more training on this. I got not much but quite a bit of knowledge. So, I think it would be better if we teachers could get more training on the same during vacations so that we can be more confident in this field," Rinchen Wangmo added.
The badminton federation is encouraging schools to conduct badminton tournaments. The federation is willing to support with equipment like rackets, shuttles, and nets.
Through the Shuttle Time Bhutan programme, the federation has reached 13 districts and touched over 700 teachers since 2012.