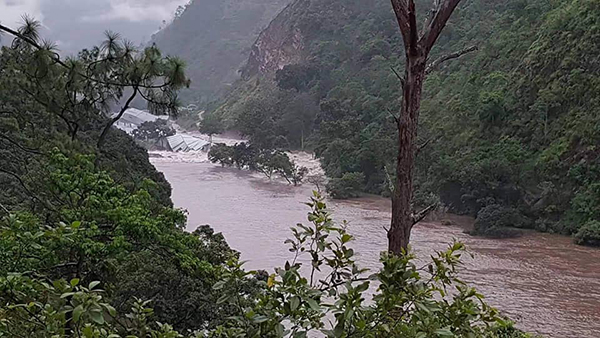 A driver, two helpers and a foreman, all of the Indian Nationality, are reported to be missing since yesterday night after the swollen Phangruchhu stream in Jaroggang, Athang Gewog turned the Punatsangchhu into an artificial lake at Miyoethang under Daga Gewog.
The artificial lake formation of the Punatsangchhu in the Miyoethang area under Daga Gewog has also damaged the Bharat Heavy Electricals Limited's (BHEL) Electro-Mechanical store and JayaPrakash (JAYPEE) construction's Ferrule workshop.
An official says there is equipment worth of Nu 7bn in the two affected places. The actual damage cannot be ascertained for now because the store is partially submerged and there is no way for them to reach there.
Four vehicles including a tanker have been washed away.
However, the Managing Director of the project says there is no damage to the actual project sites of PHP II.
The swollen Phangruchhu stream in Jaroggang totally damaged a two-storied traditional house and washed away a concrete bridge connecting Athang Gewog Centre last night at around 9 pm. The flash flood has also damaged the irrigation water channel of twenty households, drinking water supply of four households and about twenty acres of paddy field under Jaroggang-Dzawo chiwog in AthangGewog.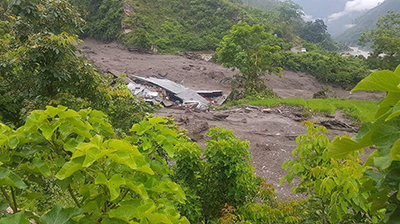 "The people who reside upstream called my house and informed about the oncoming floods. Thereafter, my children ran out from the home leaving their dinner and soon after they reached the road, the flood washed away my house. My biogas, maize grinding machine, a traditional altar and Sofa sets along with some cash of Nu 15,000 have been washed away by the flood," said Wangdi, from Jaroggang-Dzawo chiwog in Athang Gewog.
"The dzongkhag disaster team have issued their items to the victims. The Dasho Dzongda have also handed over the Semsoo of the His Majesty The King to the victims. From the Gewog administration side, we are discussing with the dzongkhag administration and planning to manage one temporary shelter for the victims," said Khandu Dorji, the Athang Gup.
Meanwhile, the Dessups were at the site to help the flood victims, since morning, in evacuating them to a safer place and recovering their properties. The gup said that the victims will live with their relatives until they finish building a temporary shelter for them.
The artificial lake formation triggered by the flash flood also damaged a kilometre long Tsirang- Wangdue Phodrang national highway. The road has been closed to traffic since this morning.