Carrot price drops to all time low last week
 Sonam Penjor, Phuentshogling

Jul 25, 2019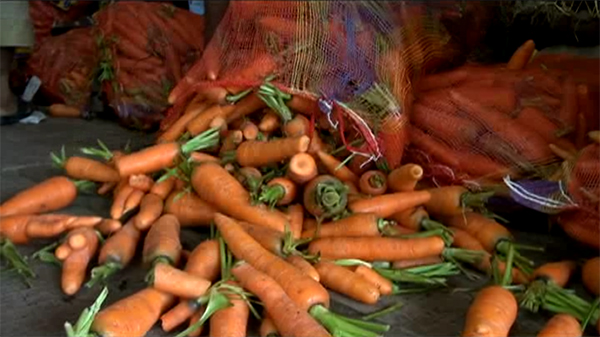 Farmers in the auction yard of Food Corporation of Bhutan (FCB)  in Phuentshogling are not happy with the price of carrot this year. The bountiful production of carrots this time is hampering the price during the auction.
Farmers from Chhukha, Paro and Haa brought their first harvest of carrots, cabbages and beetroot among other vegetables expecting good price like last year. While the prices of other produce remain almost the same, the price of carrot has deteriorated by far. Last year, a sack full of carrot fetched as high as Nu 2200. This year, the price did not cross Nu 1800 also until now. The lowest so far has dropped to as low as Nu 250 a sack.
"Growing carrot isn't easy. And to bring it here is another challenge. Since it is far from Paro, the transportation charges are quite high. After reaching here, when we don't get the expected price, it demoralizes us. A few days back, the price was good. Now the prices are shrinking. We are getting as low as Nu 200-300 per bags and highest ones got Nu 600-700 per bag. We farmers, work hard and increase the production every year, but the price we get is below our expectation. This is sad and it is challenging for us," said Soenam, a farmer from Dawakha in Dogar Gewog, Paro.
According to the FCB officials, the prices are comparatively low this time due to surplus supply. Last year, until this time only about sixty metric tons of carrot were auctioned. But, this year, until now FCB received over three hundred thirty metric tons of carrot. Last week, FCB received over twenty metric tons of carrot each day and the price dropped to its lowest. FCB also says that since carrots are mostly consumed as salads only, the demand in the Indian markets is easily met through their own productions. Nevertheless, the price is improving based on the quality of carrots.
Meanwhile, farmers are also not happy with the payment system the FCB is following. They alleged that the delayed system of payment is draining them of their hard-earned income.
"I request the government to look into the payment system. It doesn't matter whether we get Nu 150 or 200, if the payment is done immediately, it will benefit us. The weekend is a holiday for them and we understand that. We have no issue with it. But on other days, we auction today, the token is issued tomorrow and the payment is done on the third day. Whatever cash we bring with us, it gets exhausted as we have to pay hotel charges and eat in restaurants. Already we do not get much from here, and in this way, we get to return with the meager amount. This is another issue here," Domchu, a farmer from Tshuendu Goenpa in Nagya Gewog, Paro, said.
Regarding the payment, FCB says that the Indian traders don't pay them immediately even then FCB pays farmers within three days.
Meanwhile, the quantities of vegetables FCB received until now has increased by nearly three-fold compared to last year until this time.