Roadblocks across the country
Bureaus

Jul 11, 2019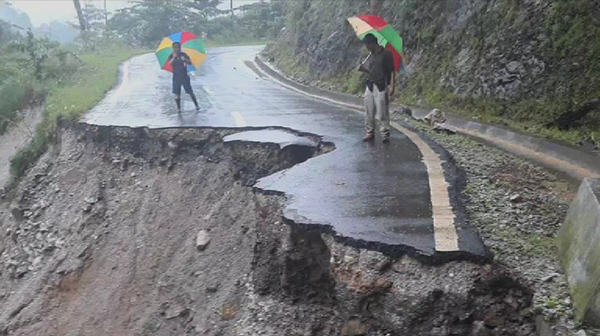 Continuous heavy rainfall in the past few days has caused several roadblocks across the country. Workers have been able to clear several blocks, but works are still ongoing at certain locations.
In Zhemgang, nonstop rain for the past 4 days has resulted in roadblocks along the highway while also damaging several farm roads in the district.
Roadblocks along the highway between Tingtibi to Panbang have been reported at two different locations. The Zhemgang-Gelegphu highway also remains closed since yesterday with reports of four major roadblocks. Landslides caused by heavy rain have also damaged electric poles in Panbang.
The Gelegphu- Zhemgang highway road at Shetikhari has been partially damaged by the swollen Shetikhari stream and if an immediate measure is not taken there is a possibility of damaging the Shetikhari bridge structure. And around 60 meters of the whole stretch of road formation has been completely washed away at Box cutting.
The Road formation at Goiree which is 6 km from Gyelpoizhing towards Nganglam is completely washed away. It may take around three days to clear the road for traffic. RBP advises travellers to avoid travelling along this highway.
In Trongsa, the highway at Reotala still remains closed due to a major roadblock. Road officials are hoping to have it cleared by tomorrow. Meanwhile, the block reported at Bjeezam in the morning was cleared by the afternoon.
Most of the gewog centre roads are reported to be damaged and washed away in Samdrup Jongkhar, and the highway for Samdrup Jongkhar and Samdrupchhoeling at Agurung and Sukuni was blocked since morning. DoR has cleared the blocks to traffic in the afternoon, but the blocks at Narphoong is still being cleared with hundreds of vehicles stranded.
Similarly in Pema Gatshel, the Pema Gatshel-Nganglam highway is also blocked at several locations. According to DoR officials, they were able to clear the road once in the afternoon but landslides caused by heavy rain have again made the road impassable.