Scouts attend Solar Camp in Paro
Sangay Chezom, Paro

Jul 11, 2019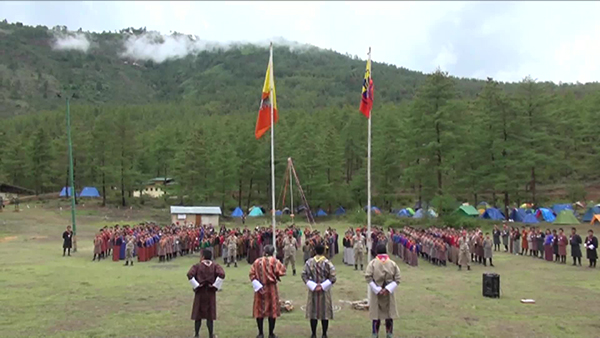 To involve and empower young scouts in solar solution works to protect the climate, more than 300 scouts from 33 schools under Thimphu thromde participated in the 'Scout go Solar Camp' at National Scout Centre in Paro.
The three-day camp was the part of scout programmes and initiatives to support young people to create a better world.
As part of the camp, participants assembled solar toys like the solar cooker and solar water pump. The young scouts were provided with a practical demonstration on how to organise and run solar energy.
With the technical assistance from the World Scout Environmental Programme (WSEP) and National Scouts Organization in Thailand, the scouts were introduced to use of solar energy.
"I want to teach the young scouts and built their aptitude for solar activities. Solar activities here start from the solar bug because scouts are interested in solar toys and it can teach them about solar energy. They learn the importance of solar energy," said Dr Piromsok Kidputtanasombut, the Solar Ambassador of  WSEP, Thailand.
"People today use many other forms of energy, which are not clean. Sunlight is the clean power and when people are interested to use solar energy, we will have clean air and clean development. And it is very safe.  This can help create a cleaner environment and a better world."
He added teaching scouts the use of sunlight and discovering new ways to use it in everyday life is a means of achieving sustainable development goals and to fight climate change.
"It is very useful for scouts. Most of the time, we go camping in the forest or remote places, where we do not have access to electricity. So there we can use solar energy," Phub Lham, a participant, said.
"Usually on camping or pilgrimage with families, we can use the solar panel and charge our phones," Tshering Yangden Wangmo, another participant, said.
Scouts go Solar Camp is the first of its kind in the country. Participants were also given solar badge each. The Global Scout Go Solar Program and the Solar Badge were launched in September 2015.