Wangdue Phodrang District Hospital inaugurated yesterday
Changa Dorji, Wangdue Phodrang

Jun 17, 2019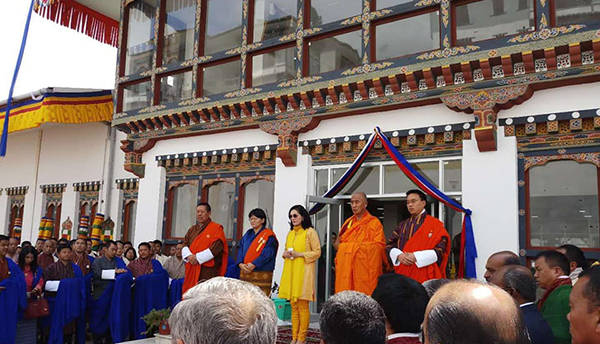 The newly constructed 40 bedded Wangdue Phodrang district hospital was inaugurated yesterday. The new hospital is expected to provide key preventive and curative healthcare services to the people of Wangdue, Punakha and Gasa.
The Punatsangchu Projects I & II funded more than Nu 293 M for the new hospital construction.  The district hospital is equipped with modern amenities. It also houses a Trauma Centre, which will provide vital services related to gynaecology, Obstetric, orthopaedics and emergency medicine. With this, it is expected to streamline the referral process and reduce the burden on the National Referral Hospital.
"We wanted to provide dialysis services in Wangdue Phodrang Hospital. The reason why we want to do this, if you look at Non-Communicable Disease (NCD) stats, this part of the region of Wangdue and Punakha has quite a high number of incidents of NCD. So, we hope that this hospital by providing dialysis here, people don't have to go to Thimphu to avail services," said Dechen Wangmo, the Health Minister.
The health ministry says the new hospital will help to bring the much-needed health services nearer to the people here.
"We have endoscopy, we have Echo Cardiogram and our senior medical specialist is taking care of this facility about this diagnostic procedure to the patient. We also have elevator systems to take patients from one floor to another and to the other diagnostic centers, which is very convenient for us. Here, we have a very wide range of units where we can give enough services to the OPD patients and we have very good space where we can give good services to the patients," added Krishna Singh Mongar, the Chief Nurse for Wangdue Phodrang District Hospital.
But he said there is a shortage of manpower.