The Last Shepherd of Thakhorling village in Tsirang
Namgay Wangchuk,Tsirang

May 16, 2019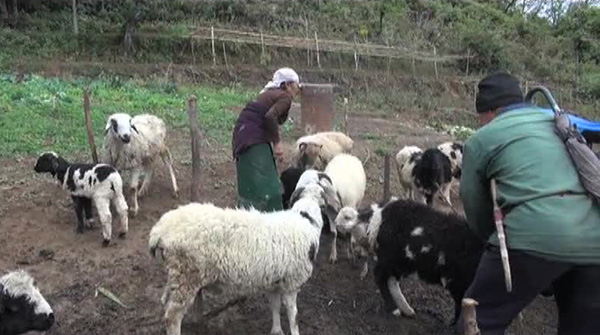 Seventy-eight years old Dhan Maya Tamang serves breakfast for her 74 years old husband Phurba Tamang in the morning and restlessly waits for him to finish eating because a flock of over twenty sheep were bleating in the lush cardamom field. They are calling for their old shepherd to untie them.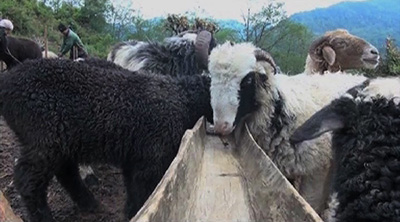 The Tamang family is the last family to rear sheep in Thakhorling chiwog in Padtshaling Gewog under Tsirang Dzongkhag. The place was once flooded with sheep, reared for meat, wool, milk and manure.
The future of sheep in Thakhorling village depends on the old couple who treats their sheep like their children. "As long as we are alive and capable of looking after this flock we will be continuing to herd sheep. But after we are gone it's not in our hands, we don't know if our children will continue the trend," Phurba Tamang said
They said rearing sheep is not a piece of cake while available substitute for woollen products in the market has also discouraged peoples perspective towards rearing sheep.
"Earlier in our young age we used to be sheepherder, and as I got married and came to my in-laws they also reared sheep. But gradually everyone stopped rearing it. We even planned to sell few sheep so that our neighbours can also rear some but no one is keen. People say they have no one to herd the sheep. Rearing sheep is a daunting task; it won't work like feeding fodder to tied up cattle," Dhan Maya Tamang said.
"People have stopped weaving the wool products also. It is very difficult to find someone who weaves wool. Even if we ask weavers to divide the product in fifty-fifty basis they are adamant. It is also not easy to weave wool. Moreover we get plenty of woollen products easily in town so they say why take the trouble," Phurba Tamang added.
Meanwhile, the livestock extension office in the gewog, which is equally worried about the decline in sheep rearing, has plans to provide quality rams in the next financial year.
The office claims that people's attention is towards building infrastructure such as roads and irrigation while they ignore such extinction risks. Officials hope that to preserve the local sheep breed of Tsirang, people of Tsirang shall be willing.