Development partners assure support to Bhutan beyond 2023
Pema Tshewang, Thimphu

Mar 15, 2019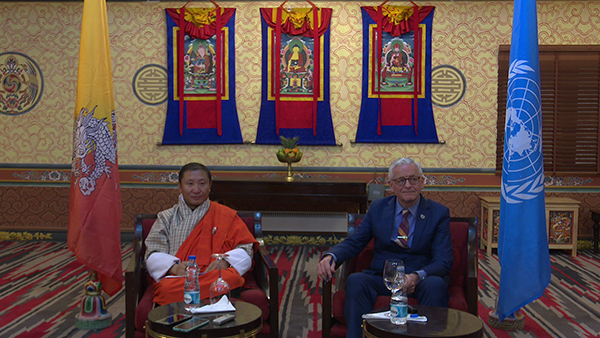 The United Nations agencies and other development partners assured their assistance to Bhutan even after its graduation from Least Developed Country (LDC) category in 2023. The development partners also commit to support Bhutan for a smooth transition at the 14th Round Table Meeting (RTM) held in Thimphu.
The United Nations General Assembly at its 73rd session last year endorsed Bhutan's graduation from the LDC category by 2023.
At the press conference, following the conclusion of RTM, the UN resident coordinator Gerald Daly assured continued support to Bhutan.
"We will continue to be supporting this great country after 2023.  As the UN resident coordinator in Bhutan responsible both directly and indirectly for 25 UN agencies works in this country, I take responsibility to provide relevant, coherent and effective support to the Royal Government of Bhutan. We are here to serve."
Ever since Bhutan became the member of the United Nations in 1971, the country has been home to many UN agencies, funds and programmes that supported the government in delivering national development needs and improving the socio-economic conditions of the Bhutanese.
Over 100 participants from Bhutan's development partners attended the RTM. For the first time, representatives from the private sector, Civil Society Organizations, registered political parties and the National Council members also attended the meeting.
This inclusive participation was in line with the government's policy of inclusive and participatory approach for the common future.
The Foreign Minister Dr Tandi Dorji co-chaired the RTM with the UNDP Administrator and UN Under-Secretary-General Achim Steiner.
"More than 50 development partners, both bilateral and multi-lateral attended the RTM. Out of which, 32 development partners took the floor to make a statement of support in various forms to the Royal Government of Bhutan and to the 12th Five-Year Plan," Foreign Minister said.
He also added that Bhutan now has to move from aid to trade based country and look at different engagement and partnerships by engaging the private sector as well.
The RTM is the highest forum for policy dialogue between the government and its development partners.