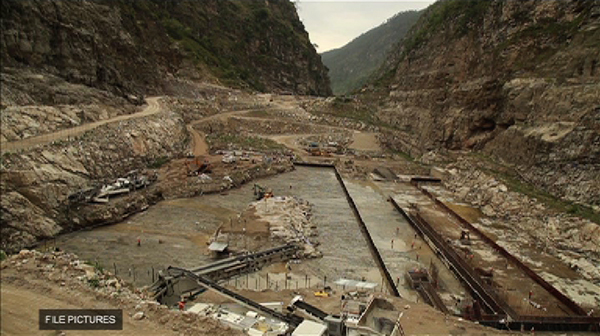 The commissioning of the Punatsangchhu I Hydroelectric Project has now been deferred to 2024. The Economic Affairs Minister said the delay is not due to the recent slide, but because of muck that has overburdened the previous slides. The removal of the muck is going to take some time.
The Economic Affairs Minister Loknath Sharma at the Friday media meet last week said, delay in the project has got everyone concerned. Moreover, the slide that occurred near the project's dam site on January 22 had further raised more concerns.
As the project's chairperson, the minister said, he is more concerned about the slide above and for the long term solution for the project.
"Our concern as a Bhutanese is bigger, the holistic concern what will happen probably to the highway and the hillock above, that's my concern," Economic Affairs Minister Loknath Sharma said.
So far, the reports claim that the area above the slide is safe and there are no risks. And as for the slide area, it will be secured once the dam is built.
However, a technical committee meeting to be held on 22nd of this month in New Delhi will come up with technical solutions and give a clearer idea of what Punatsangchhu I should do. Till then, the completion of the project is going to take some time.
"The project might take another one year more because of the muck. Therefore, we are keeping the time at 2024," Economic Affairs Minister added.
The works for the 1,200-megawatt hydropower project began in 2008 and was scheduled to be complete in 2016. It was further pushed to be complete in 2021.