Three Black-necked cranes tagged with GPS transmitters
Tshering Zam, Trashi Yangtse

Feb 9, 2019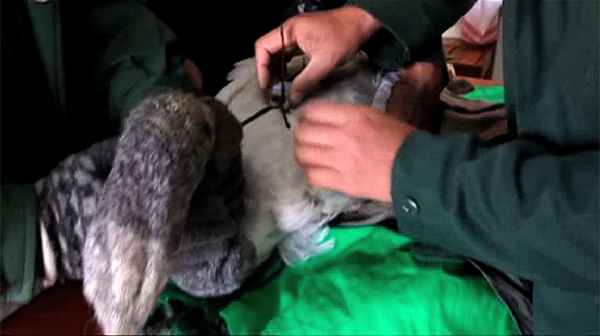 The Boomdeling Wildlife Sanctuary (BWS) tagged three Black-necked cranes with GPS transmitters to study migratory routes, and identify potential threats. Officials say data from the GPS transmitters will help identify potential threats during the bird's migration and help step up conservation efforts at the cranes' roosting areas.
The three cranes were tagged with GPS transmitters, each weighing 40 grams, last month.
A researcher with the Ugyen Wangchuck Institute for Conservation and Environmental Research (UWICER) in Bumthang, Sherab, said that any animal can carry a weight that is three per cent of its body weight.
"So far we were not able to understand the exact summer place where the cranes roost when they fly towards the north, their dietary habits, and their migratory routes."
The GPS transmitter will provide data on this, he added. The GPS transmitter is a solar charged and sends information daily.The faeces of the cranes will be collected to examine dietary habits.
A senior forestry officer with the BWS, Tshering Dendup said this study will enable them to understand what exactly the cranes feed on. He added that studies carried out till date were not comprehensive. In Trashi Yangtse, cranes were found to be feeding on rice grains.
The UWICER and BWS with support from the Royal Society for Protection of Nature are carrying out the project. The data, officials say, would be invaluable for the protection of the endangered species.
"With all this information, we can protect the bird's roosting place. It will also benefit other animals dwelling in that area. Information on what the bird does while remaining idle, and where they live will also be obtained," UWICER's Sherab said,
The project is also expected to strengthen the trans-boundary cooperation in the conservation of the birds with neighbouring countries.
Similar kind of projects was also conducted in 1998 and 2011. BWS recorded 119 cranes this winter.