Rabies outbreak in Phuentshogling and Sampheling Gewogs
Sonam Penjor, Phuentshogling

Jan 28, 2019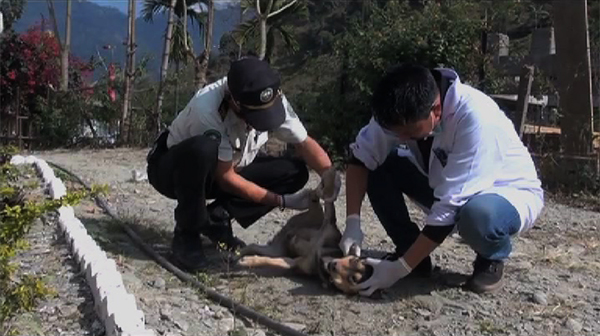 Following an outbreak of rabies in three villages of Phuentshogling and Sampheling Gewogs in Chhukha, the Rapid Response Team (RRT) comprising of officials from Livestock, Health and BAFRA are in the affected areas monitoring the situation.
The team had eliminated seven rabid dogs since the first rabies case was reported on January 21. Also, nearly 50 people and some of the pet animals were given anti-rabies vaccination in about a week.
"After a rabid dog has bitten many other dogs, the RRT team reached here immediately. We are hopeful that the situation will be under control now," Lal Bahadur Rai, a resident, said.
The RRT team is carrying out door-to-door surveillance in the affected areas of Wangdi Gatshel and Dophuchen under Phuentshogling Gewog and Majuwa in Sampheling Gewog.
"The team did a thorough investigation, we immediately activated RRT and we are doing everything to curb the situation," Dr Chendu Dorji, the Senior Veterinary Officer of the Regional Livestock Development Centre in Tsimasham, said.
The officials said there are frequent cases of rabies but people rarely report it. They said the porous border Phuentshogling shares with the neighbouring Indian town of Jaigoan makes it more vulnerable to rabies outbreaks.
" We request the people to report if they spot any suspected rabid dogs in their communities. The rabies outbreak is high in Phuentshogling and Pasakha areas. We need the support of the public to combat it together" Dr ChenduDorji said.
The people in the affected areas are being advised to remain vigilant.