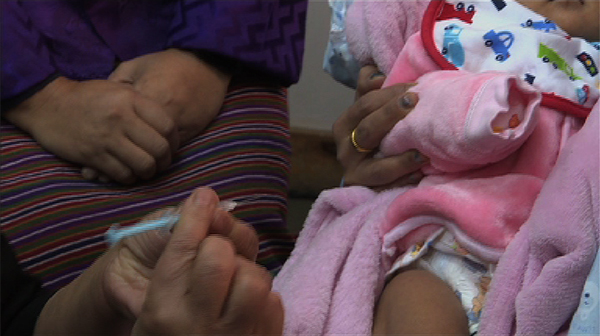 The Ministry of Health introduced Pneumococcal Conjugative Vaccine (PCV 13) into the routine immunization schedule starting today. The PCV 13 was launched at the Community Health Department of the national referral hospital in Thimphu earlier yesterday.
The vaccine is scheduled to be given for infants and children at the age of 6 weeks, 10 weeks and 9 months.
Coinciding with the launch today, the first dose of Pneumococcal vaccine was given along with the first dose of Pentavalent vaccine, nationwide, in all health facilities.
PCV 13 is administered in children for prevention of Meningitis and Pneumonia.
The addition of PCV into routine immunization schedule takes the total number of vaccines in Bhutan to 12. The list also includes the Human Papilloma Virus (HPV) for Prevention of cervical cancer in women.
Pneumonia is one of the leading causes of child mortality in Bhutan. According to the health ministry, 45 per cent of deaths among children were due to pneumonia followed by 11 per cent by meningitis, both caused by pneumococcal bacteria.
"I am very happy that my daughter is the first one to get this vaccine. I hope she will not suffer from any pneumococcal related diseases in her life," Phub Zam said.
"I am glad that now children in our country will be free from pneumonia infections because infants and children are vulnerable to this disease," Chimi Lhamo, another mother, said.
According to the health professionals, over 800 deaths were reported due to pneumonia and meningitis over the last nine years. Pneumococcal diseases include meningitis, otitis media, pneumonia and bacteraemia.
"After the introduction of this vaccine, pneumonia cases that we see in the OPDs will be drastically reduced," Dr Karma Lhazeen, the Director of the Department of Public Health, said.
"All pneumonia is not caused by pneumococcal infection but we expect that at least 50 per cent of the cases to be reduced."
The Bhutan Health Trust Fund (BHTF) will support procurement of PCV vaccine amounting to Nu 9.2 M annually.
The Global Alliance for Vaccines and Immunization (GAVI) provided support for one time operational or introduction cost through a grant amounting to Nu 7.5 M. The WHO and UNICEF have provided technical support for the introduction of this vaccine.
In addition, in line with the government announcement of new vaccine launch on 4 June 2018, the health ministry is carrying out cost-effectiveness study on the introduction of Rotavirus and flu (influenza) vaccines.
The ministry says the National Committee for Immunization Practice (NCIP) in Bhutan has noted that there is currently insufficient data to support Pneumococcal vaccination for elderly population.
There are also documented positive effects of herd protection in adult age group following routine infant immunization with PCV 13.