Community forest members trained in furniture making
Kipchu, Bumthang

Jan 10, 2019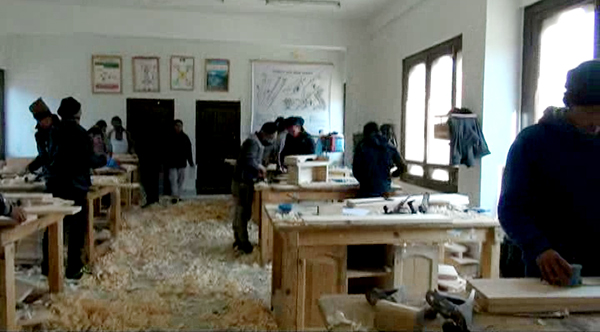 A month long furniture-making training for the members of community forest is underway in Bumthang. Twenty men, all members of local community forest from eight districts, are attending the program.
The training in Chummig is an initiative of the Department of Forest and Park Services (DFPS) of the Ministry of Agriculture and Forest.
It is aimed at diversifying the production of wood based products to improve the livelihoods of community forest members.
They have been taught hand tool maintenance, basic wood joints and tool operation so far. The training began last week.
Norbu Wangdi of Dechencholing Community Forest in Kanglung, Trashigang is one of the trainees.
"Selling tree logs is less profitable. A log fetches about Nu 5000. Through this training, we learned that if we make furniture out of it, the earnings would be two or three folds more," he said.
"A lot of trees are knocked down by wind and other natural factors. We can use such trees that can't be used for house construction to make furniture," he added.
Sherub of Druk Thuenpa Puenzhi Community Forest in Dawakha, Paro shared the same.
"We can make more money by making furniture from the trees than by selling timber. This is something new we learned from the training that can be put to practice back in our communities," he said.
For some of the trainees who are still in their early 20s, the training has come as an opportunity to equip themselves with job skills.
Yeshey Wangchuk of Kuzhugchen Community Forest in Kabesa, Thimphu is among the young participants. "A lot of young people today complain of lack of job opportunities. I think this is not right," he said.
"There are jobs that we can take up. It's just that not many are open to it."
The participants have already made a few wooden household items. At the end of the training, they are expected to be able to make tables and shelves among other furniture.
The training concludes end of this month.