Bhutan-Austria economic forum to strengthen business cooperation
Sherub Dorji,Thimphu

Dec 5, 2018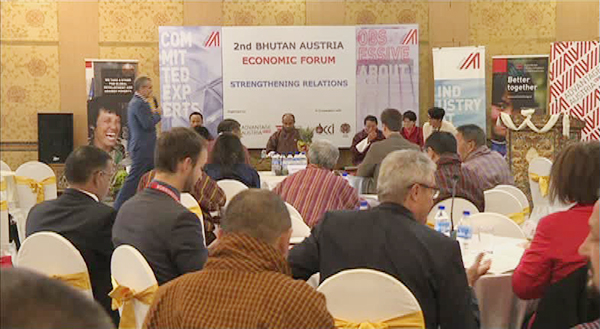 The second Bhutan-Austria Economic Forum held in Thimphu saw eight Austrian companies from diverse sectors such as energy, engineering, tourism, and health in Bhutan to explore business and investment opportunities.
The forum was organised to bring entrepreneurs from two countries to create business partnerships and to harness each other's strengths.
The president of the Bhutan Chamber of Commerce and Industry (BCCI), Phub Zam, said that Bhutan is an economy in transition and presents huge investment opportunities.
The government also presented on how Bhutan is looking at economic diversification in the 12th five-year plan. The economic affairs minister Loknath Sharma said that the government will prioritize works to push Bhutan into the world top 50 in ease of doing business rankings.
"We will look into the minimum investment path, foreign exchange provision, and procedural formalities associated to business registration and licensing, and the whole of government approach in the promotion and facilitation of FDI in the country."
Business to business meetings was also held to enhance closer ties between businesses in the two countries.
"I hope that the long-standing cooperation between Austria and Bhutan will be transformed into new forms of partnership across the world. We are in good track in broadening and deepening our cooperation, in strengthening our economic ties, in promoting cultural exchange, and people to people confidence." Brigitte Oeppinger-Walchshofer, the Austrian Ambassador to Bhutan, said.
The forum was organised by the Austrian Development Agency.