Quinoa cultivation picking up in Tsirang
Namgay Wangchuk, Tsirang

Dec 5, 2018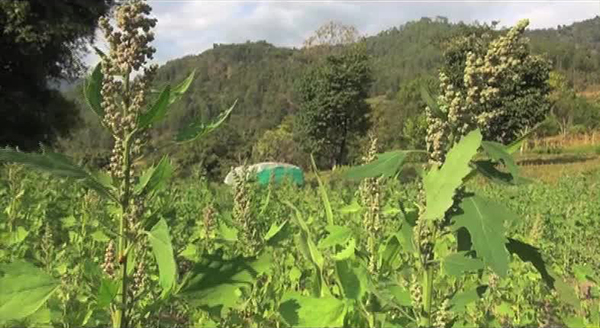 The farmers of Sergithang Gewog in Tsirang are picking up Quinoa cultivation, two years after the dzongkhag agriculture sector first started growing quinoa on a trial basis. Quinoa is a kind of cereal grain known for its nutritious value.
Today some 18 households in the gewog grow quinoa.
55-year-old Lal Bahadur Sanyasi of Tashithang Chiwog is one of them. He said cultivating quinoa is much easier than other crops.
"Earlier I use to grow pulses but pests destroy it. But now I am growing quinoa and whatever I produce, the agriculture department buys it. Last year, I sold 10 kilograms of quinoa and earned Nu 1,000."
The farmers were provided with free seeds last year.
"With 25 grams of seeds, I harvested about four kilograms of quinoa last year. Since we had no idea about the grain, we got constant monitoring and training from our agriculture officials. For, a  kilogram of quinoa, we got Nu 100," Rudra Lal Sanyasi, a farmer, said.
Agriculture officials say many farmers are showing interest in growing quinoa.
"Due to limited drylands in the Gewog farmers couldn't cultivate the crop. The quinoa cultivation period falls before the paddy harvest season so farmers are not able to cultivate on their wetland as well."D.B Ghalley, the Gewog Agriculture Extension Officer, said.
The cereal can be consumed by mixing with rice, made into porridge and even salad.
Quinoa was brought into the country in 2015 from Peru in South America.