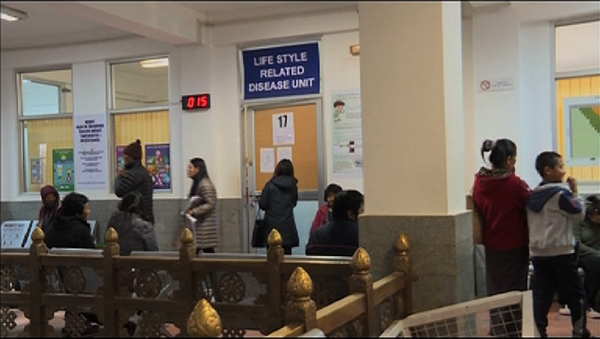 Patients with chronic kidney diseases now no longer have to wait in a queue along with other patients for consultation services at the Jigme Dorji Wangchuck National Referral Hospital (JDWNRH) in Thimphu. The hospital has started a separate Out Patient Department (OPD) for them about two months ago.
Following an increase in the number of kidney transplant cases in the country, the chamber 17 in the old hospital was opened started as OPD for kidney patients.
"Earlier, there were chances of infections, when the patients with chronic kidney diseases and those who underwent kidney transplants have to wait in line for consultation with other patients, Also, the patients through Bhutan Kidney Foundation requested for a separate OPD," Dr Gosar Pemba, the Medical Superintendent of JDWNRH, said.
The OPD sees patients with chronic kidney diseases every Monday and patients who underwent kidney transplantation on Saturdays.
"Now we do not face any difficulty even when we don't have anyone accompanying us to the hospital. Consulting a doctor has become convenient for patients like me," Taw Gom, a kidney patient, said.
While having a separate OPD has proven beneficial, the national referral hospital is confronted with a lack of medical specialists to deal with kidney related cases. Today, Doctor Minjur Dorji is the only Nephrologist in the hospital.
"Sometimes it is very difficult to conduct a proper evaluation of the patients because we have to attend other medical cases. And it is challenging to provide quality treatment to the patients."
The OPD see about 20 patients every week.