Monitoring education quality in ECCD centres a challenge
Sonam Tshering, Monggar

Nov 15, 2018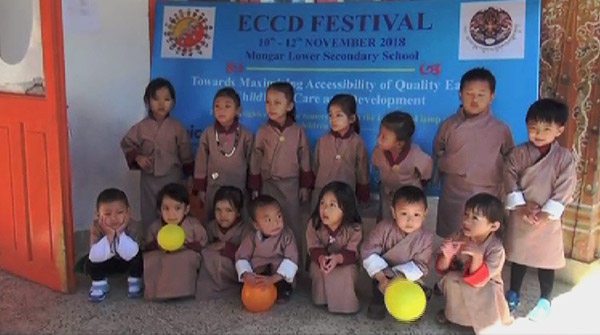 Monitoring quality of education in the Early Childhood Care and Development (ECCD) Centres is still a challenge with manpower shortage in the education ministry. The issue was highlighted at the second ECCD festival held in Monggar recently.
At present, the ministry has only a handful of people looking after the matters related to ECCD centres across the country. And for them, it is a daunting task to monitor the quality of learning for over 300 ECCD centres across the country.
 "Even though we have the monitoring system, tools and mechanism in place, we have not been able to consistently look at the quality because of manpower shortage both at ministry and Dzongkhag level," Karma Galey, the Programme Officer of MoE, said.
For the ECCD facilitators, they said they need training and refresher courses to enhance their skills so that they can focus on the quality of learning and education in the centres.
"We only get two-week long basic training after the recruitment. I feel this is too short for us to get acquainted with the required knowledge and skills. And parents should also understand the importance of ECCD and support the centres," Tendrel Zangmo, one of the ECCD Facilitators, said.
"I have been working as an ECCD facilitator for about two months now. But so far, I did not get any training in the field. We would be grateful if the ministry could provide us with long-term training and refresher courses to enhance our knowledge," Pema Choki, another ECCD Facilitator, said.
Regarding the professional development of the facilitators, officials said the ministry has already started a diploma certificate course at Paro College of Education since 2015. The first batch of 85 students will graduate this year.
"From the very outset, we have been planning and offering professional development in terms of providing basic training initially and then developing a diploma in ECCD, which we hope will address the professional development needs for ECCD facilitators." Karma Galey said.
During the three-day festival, around a hundred participants, including ECCD facilitators, principals and Dzongkhag Education Officers attended the event.
The education ministry organized the annual festival with financial support from UNICEF and Save the Children.
Currently, there are over 600 ECCD facilitators working on a contract with the education ministry.