Sertog installed on Do-Ngag Shedrupling Dratshang in Sarpang
Karma Wangdi, Sarpang

Nov 5, 2018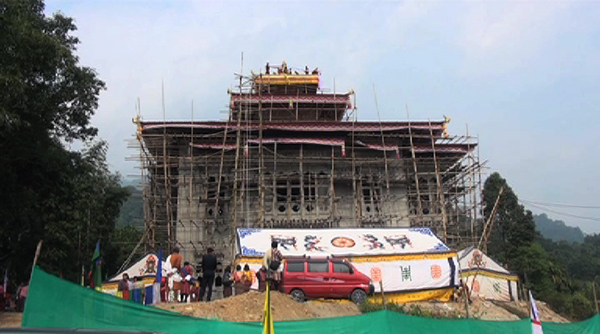 The Dorji Lopen of the Central Monastic Body presided over the Sertog or the golden pinnacle installation ceremony today. The Do-Ngag Shedrupling Dratshang is being built at Mendrelgang in Cheokhorling, Sarpang.
The construction of the dratshang began in 2016.
The Bhutan Drukpa Kagyu Buddhist Centre based in Hongkong initiated the construction with financial support from devotees in Hongkong.
The dratshang is being built on an area spanning more than five acres.
Khenpo Cheki Dorji of the Hongkong based centre said the two-storey dratshang will have a Buddha statue as its main nangten in the ground floor along with statutes of Guru Rinpoche, Zhabdrung and Jetsuen Droelma.
The top floor will house statues of Chenrezig and Dorji Sempa among others.
The construction is expected to be complete by 2020. It is estimated to cost Nu 200 M.
The people in the locality are happy with the construction of the dratshang in their community. At present, they have travel to Sarpang or Gelephu to get monks to conduct rituals. They said they will not have to do that once the dratshang is complete.