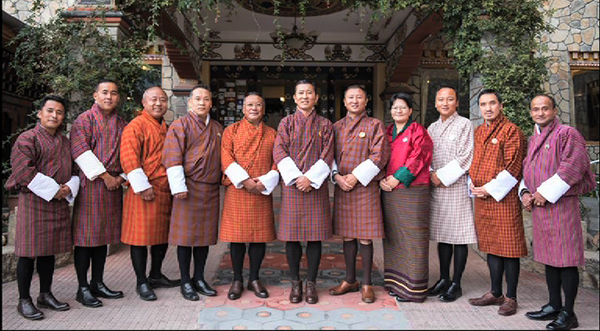 Prime Minister Dr. Lotay Tshering officially announced the names of the 10 cabinet minister-elects at a press conference in the capital this afternoon.
Three ministers each from east, south and west and one from central will head the ten ministries.
Dasho Sherub Gyeltshen, 63, from Monggar Constituency gets the portfolio of Ministry of Home and Cultural Affairs. Before joining politics, he served in the capacity of the Secretary of Dzongkhag Development Commission (DDC). He was also a justice of High Court and served as a Dzongdag for 15 years.
Yeshey Penjor, 54, from Nubi-Tangsibji Constituency (Trongsa) is the minister-elect for agriculture and forests ministry. Before entering politics, he was the Project Director of Green Public Procurement Project and Climate Change Policy Advisor with UNDP Bhutan and National Environment Commission.
Dr. Tandi Dorji, 50, from Lingmukha_Toedwang Constituency in Punakha is handed the portfolio of Ministry of Foreign Affairs. So, this makes him the minister-elect for foreign affairs ministry.
He is the founding member of Druk Nyamrup Tshogpa (DNT) – the government-elect. Before beginning his political career, he was a consultant paediatrician, public health researcher and a technical advisor.
The minister-elect of Ministry of Economic Affairs (MoEA) is Loknath Sharma, 47, from Dophuchen-Tading Constituency in Samtse. Before embarking on a political career, Loknath was the Regional Head of Road Safety and Transport Authority (RSTA).
Karma Donnen Wangdi, 47, has been given the portfolio of information and communications ministry. He was the National Council member of Sarpang from 2008-13.
Jai Bir Rai, 45, from Phuentsholing Constituency, Chhukha is the minister-elect for education ministry.
He joined politics in 2013. Before that, he served as a CEO, chief consultant, trainer and was also the finance officer of Royal University of Bhutan (RUB), Thimphu national referral hospital and agriculture ministry.
Dechen Wangmo, 42, from North Thimphu is the minister-elect of health ministry. Before becoming a politician, she was an independent consultant in public health and social development for eight years.
She is the lone woman minister-elect in DNT cabinet.
Namgay Tshering, 39, from Dokar_Sharpa Constituency, Paro is the minister-elect of the finance ministry. Prior to joining politics, he served as the project coordinator of World Bank and Global Fund Project, planning officer and program manager in the health ministry.
Dorji Tshering, 39, from Radhi_Sakteng Constituency, Trashigang is handed the portfolio of the works and human settlement ministry.
Before getting into politics, he worked as the Executive Engineer and Deputy Executive Engineer in the same ministry for seven years.
Ugyen Dorji, 32, from Thrimsing_Kangpar Constituency, Trashigang is the minister-elect for labour ministry. He is the youngest minister-elect in DNT cabinet.
Prior to pursing his political career, Ugyen was the Desk officer in SAARC, Research Assistant in Singapore and worked in foreign affairs ministry. He will be the youngest minister.
Prime Minister Dr. Lotay Tshering, said the ministerial portfolios have been handed considering individual competencies and personal proficiencies, and not necessarily in tune with educational or professional background.
"In all our election campaigns, DNT proposed for change. Change in governance, change in ideas, change in our professional conducts and change in approaches to tackling pertinent issues. We talked about offering paradigm shifts in pursuing development works and in our pursuit of narrowing the gap. So as we put together the team of Cabinet, we are mindful of the fact that we campaigned for change. We are happy to inform that this group of committed individuals, our agents of change are motivated to work selflessly as they serve the country and its people," added the Prime Minister.
He also said the first order of business for the new government is to bring on board all the leaders of the other political parties to incorporate their pledges to formulate vision 2045.
The Prime Minister and the cabinet minister-elects will receive Dakyen from His Majesty The King on 7 November.