Breathing new life into Lingzhipai Zhey
Changa Dorji, Lingzhi

Oct 26, 2018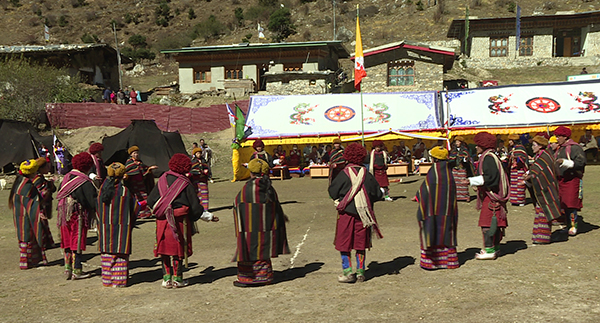 Many Bhutanese would know, or at least, have heard about Goen Zhey of Gasa, Wang Zhey of Thimphu, Nub Zhey of Trongsa and Woochupai Zhey of Paro. What many probably may not know is that there are several other Zheys apart from the main four Zheys.
The minor Zheys include Auley of Laya, Locho of Sha, Bonghur Zhey of Haa, and the Miritsemoi Zhey of Chukha.
Of the less popular Zheys, the Lingzhipai Zhey could be the least known. A few studies have been done on the Zheys of Bhutan, but the Lingzhipai Zhey is barely mentioned.
Zheys are described as traditional Bhutanese folk songs. They are sometimes referred to as classical dances.
Like most other Zheys, the origin and composition of the Lingzhipai Zhey are identified with the time of Zhabdrung Ngawang Namgyel.
What sets Lingzhipai Zhey apart, though, is it is performed by both men and women together. The main Zheys are performed by men only.
The main Zheys are sung and danced only during local festivals, mainly Tshechus. Again the Lingzhipai Zhey is unique in that it is performed during an annual local traditional archery match that takes place in Gangyul village of Lingzhi Gewog.
The archery match is held in the third Bhutanese month every year and Lingzhipai Zhey is a mandatory performance at the match.
"At one point, the Zhey was on the verge of disappearance," Lingzhi Gewog Mangmi Tendrel Zangpo said.
The Jhomolhari Mountain Festival has given it a new lease of life.
"We were asked by Soe Gewog to perform the Zhey during the mountain festival. It was performed by 20 locals last year and about 40 locals performed the Zhey this year," the Mangmi added.
Thinley Chezom was one of the female performers. "We are doing our bit to preserve the folk song by performing it at such events," she said.
"We are also teaching our children whatever we've learned from our elders. We hope to perform better in the next festival since the performance this year did not match our expectation."
Chimi Dorji, a male dancer, said he is not worried about its disappearance.
"Our younger generation is learning the Zhey from the elders, so I don't think we need to worry about it disappearing," he said.
"Also, it's mandatory for a man and woman each from every household to perform the Zhey during the annual archery tournament. Moreover, the government has been encouraging us to preserve it."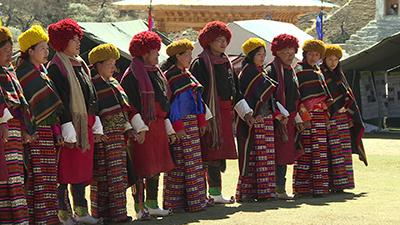 The male dancers wear red woollen gho paired with black tego. They also wear white lagay, khamar kabney and tshoglam, and carry patang or sword.
The women dancers wear a kira called Nyi-thi locally and drape Charkap, a robe-like hand-woven thing, over their back.
While the men wear furry red cap, the women wear similar cap but yellow in colour. The women dancers also adorn themselves with colourful neck ornaments.