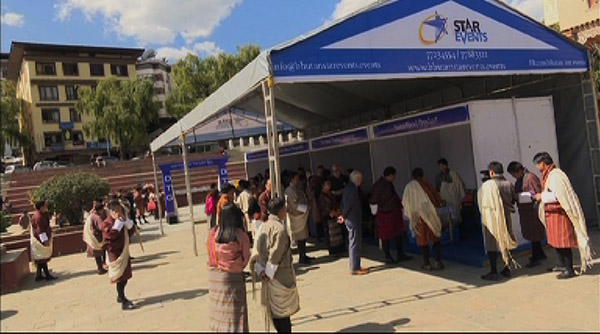 Some 30 entrepreneurs from across the country are gathered at the Clock Tower Square in Thimphu for the first-ever entrepreneurship festival Druk Tshongrig Gatoen.
The three-day festival, which opened yesterday, has various products on display.
The festival is organized by the Loden Foundation in collaboration with United the Nations in Bhutan, the ministries of labour and economic affairs, Tech Park, Bhutan Chamber of Commerce and Industries (BCCI) and Rural Enterprise Development Corporation Limited (REDCL).
A Development Manager with the Loden Foundation, Phuntsho Namgay, said the festival is aimed at encouraging and promoting the emerging culture of entrepreneurship.
It is also to expose young Bhutanese to the entrepreneurship world, raise awareness on entrepreneurship, and empower and educate the country's upcoming generation of potential entrepreneurs.
"The fair is not only for the entrepreneurs to come and display their products, but use this opportunity to discuss and mingle with other entrepreneurs who bring in other skills, relevant skills, and then try and collaborate and work together," he said.
The Loden Foundation says 17 sessions on entrepreneurship would be given to more than a hundred young Bhutanese over the three-day event.
 "The other objective is to provide a space for entrepreneurs, aspiring entrepreneurs, policy makers and service providers to come together and deliberate on important issues that are faced by emerging entrepreneurs in the country," Phuntsho Namgay added.
Lack of business space remains one of the major challenges faced by the entrepreneurs in the country.
"We find it hard to find a space to run our business from. We are based in Thimphu. Even if we find a space, the rents are very high," Sonam Tshering, the Owner of Pelbar Soaps, said.
There are other challenges as well.
Kinley Penjor of Nutri Food Products said high cost of production is a major challenge he is faced with.
"It's been only a month since I started my business. The raw materials are very expensive, which takes the production cost up and we struggle while pricing the products," he said.
Meanwhile, a book entitled "Entrepreneur Stories" was also launched at the opening of the festival yesterday. The stories are expected to encourage young Bhutanese to become entrepreneurs.