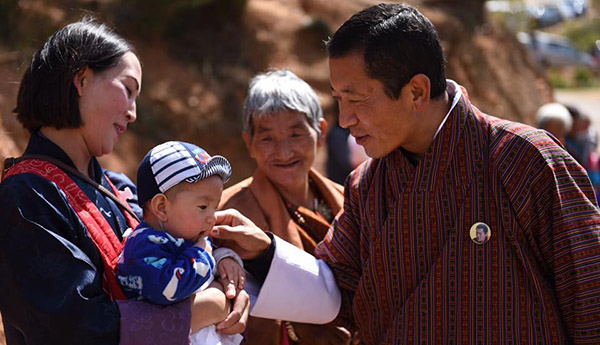 The people of Bhutan have handed the Druk Nyamrup Tshogpa (DNT), a party headed by surgeon Lotay Tshering, the mandate to form the next government with a 30-seat win in yesterday's general election.
This is the first time in Bhutan's decade-old parliamentary democracy that a new party has been chosen to form the government.
The past two elections saw the Bhutanese electorate stick with the two old parties DPT and PDP.
The DNT vowed to narrow the gap and take health care services to doorsteps of the people across the country.
It secured more than 166,000 votes against DPT's over 137,000 votes, which accounts for close to 55 per cent of the total votes, according to official results declared by the election commission earlier today.
In a news release shared on its Facebook page, the DNT writes, it is honored to be the choice of the people of Bhutan.
"That Druk Nyamrup Tshogpa gets to be your choice of representative brings us immense honour and motivation to serve you with utmost humility and live up to our shared hopes and aspirations for this blessed nation," read the statement.
The party said this election outcome is a result of the country's collective wisdom and prayers to realize a better, happier Bhutan.
"This shall be achieved through our many commitments that are targeted toward improving the lives and prospects of the people of Bhutan under the broad theme of Narrowing the Gap."
The party says in the next few weeks, it looks forward to sitting down with all political parties to sketch out a roadmap, Vision 2045, and discuss how they can work together to take the nation forward.
The DNT also congratulated the DPT on a hard fought campaign and BKP and PDP for their participation in offering a choice to the Bhutanese electorate.
The party swept all constituencies in the south, central and west.
DNT's campaign promise to give ministerial portfolio to some candidates in the east did not yield result. However, it managed to snatch a few DPT stronghold constituencies in the east, namely Radhi_Sakteng and Thrimshing in Trashigang, Monggar constituency, and Gangzur_Minjay in Lhuentse.
DNT also secured the highest votes in the nine constituencies that previously were PDP strongholds.