Vulnerability Baseline Assessment Report launched
Kinley Dem, Thimphu

Oct 31, 2017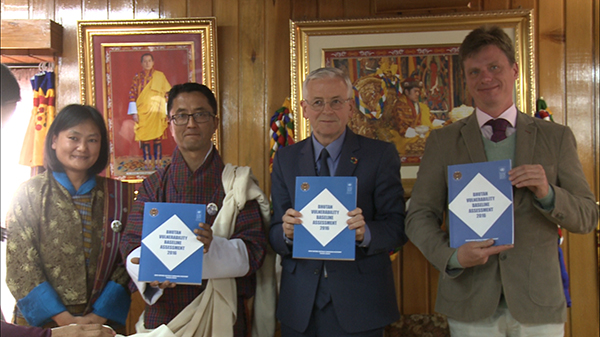 The multi-dimensional poverty Index 2016 says that 12.7 per cent of Bhutanese population is poor besides an increase in Human Development Index by 6 per cent from 2010 to 2015. This is according to Global Human Development report 2016. Multi-dimensional poverty index uses different factors to determine poverty beyond income-based lists including education, health and living standards. People who are income poor are not necessarily multi-dimensionally poor. To ensure that no individual is left behind, the Vulnerability Baseline Assessment Report was launched today.
The newly released report has identified 14 socio-economic vulnerable groups that include unemployed youth to single parents and their children. The vulnerabilities covered in this report have been broadly classified under health, education, livelihood, and physical and community participation.
"People live longer, more children are in school and more people have access to basic social services. But human development has been uneven. The unbalanced nature has led to human deprivations and the progress that has bypassed groups, communities and societies and people have been left behind," said Gerald Daly, Resident Representative of UNDP Bhutan.
To overcome these challenges, he said, they must first identify who has been left behind in the progress of development and the reasons behind.
"It will serve as a platform for moving onto our future plans or programs. We want to strategize and develop actions and plans for these vulnerable groups," said the Chief Research Officer of GNHC, Phuntsho Wangyel.
The Secretary of Gross National Happiness Commission said the government has already undertaken various initiatives to address the needs of some of the vulnerable groups. The assessment was undertaken by the government with support from the United Nations Development Programme (UNDP).