His Holiness consecrates Ngyoendro Tshokzhi Thongdrel
Phub Gyem, Thimphu

Oct 30, 2017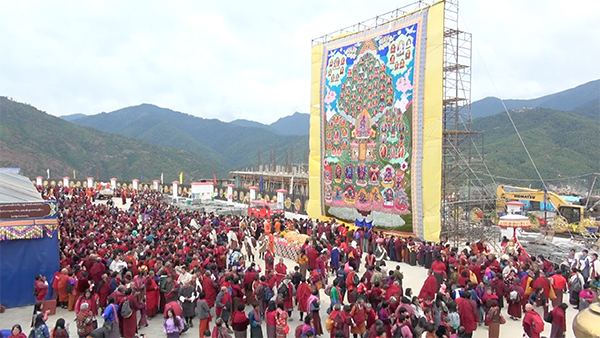 His Holiness the Je Khenpo consecrated the Ngyoendro Tshokzhi Thongdrel, which was unfurled for public veneration at Kuensel Phodrang today.
Thousands of devotees gathered to receive blessings from the 47-feet tall Thongdrel. With Dorji Chhang in the center, the Thongdrel contains hundred and sixteen images of Lama, Yedam, Khandro and Chechong.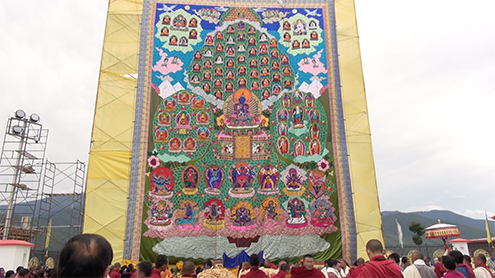 Dorji Chhang is the original founder of Buddhism and is believed to be the highest spiritual leader of the religion in the universe.
The thongdrel will be taken to Drupkhang Goenpa in Trashigang. Drupkhang Goenpa was founded by the 10th Je Khenpo, Tenzin Chogyal, in the early 18th century.
The thongdrel is the first of its kind in the country and was constructed by Drupkhang Thongdrel Tshogpa, group headed by Lam Karma Yoezer. It was built for the wellbeing of all sentient beings.
It is also to avert natural disasters and epidemics and bring peace and prosperity in the country. The tshogpa spent about Nu 5 m to make the thongdrel. The project was initiated in April last year.