RBP opens Gewog Gagdey in Lingzhi
Changa Dorji, Lingzhi

Oct 30, 2017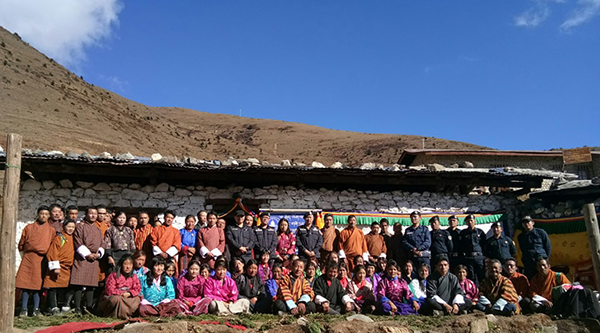 The people Lingzhi Dungkhag in Thimphu now have access to police services. This is because the Royal Bhutan Police (RBP) opened a Gewog Gagdey office or Gewog Based Police in Lingzhi Gewog yesterday.
A team from RBP headquarters led by the Superintendent  travelled to Lingzhi for the opening of the office. The police outpost will focus on crime prevention among others. It will address issues ranging from loss of livestock to more serious organized crimes such as vandalism of heritage sites and illicit trading of cultural properties and protected species.
The office is expected to help maintain law and order in the two gewogs. It will also help overcome unique challenges in policing in a remote community like Lingzhi.
At the opening, police urged the people to make use of the services provided by the office. The Superintendent Lieutenant Colonel Chewang Dengay said the police and the public should work together to bring peace and harmony in the community.
Lingzhi Gup said the people are happy to have a police outpost in their community finally after several requests made at the Dzongkhag Tshogdu. The Gup added the crime rate in the dungkhag is low and that the presence of the Gewog Gagdey Office will only make communities in the Lingzhi safer.
According to police, some of the crimes that were reported in the dungkhag before include domestic violence, chorten vandalism, and battery and theft cases.
The Gewog Gagdey project is a part of crime prevention methods initiated by the present Police Chief. The one in Lingzhi is among the four Gewog Gaydeys launched this month. The Gewog Gaydeys are being established in remote gewogs on need basis.
Through the project, Gewog Gagdey project, the RBP intends to reorient the police goals to meet the emerging needs of rural communities by promoting increased contact and partnership with the people.