ECCD opens in Dokar Gewog
Sangay Chezom, Paro

May 28, 2017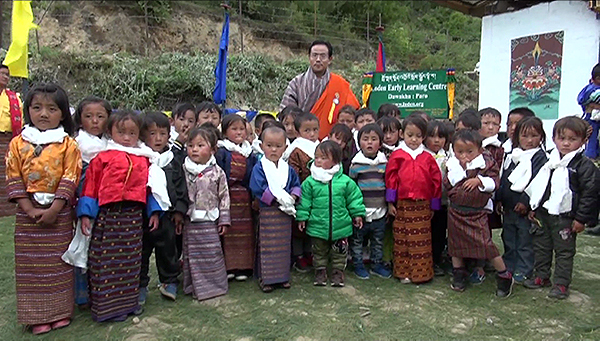 As the Early Child Care and Development Centre (ECCD) opened in Khamdraag-gang Chiwog in Dokar Gewog, Paro yesterday, some 40 parents took their children for registration at the centre.
The children who are usually shy and reserved squealed with excitement when they saw garden slides and other playful stuffs.
Parents are also equally happy with the opening of the ECCD. They are hopeful that the centre will help children to learn and widen their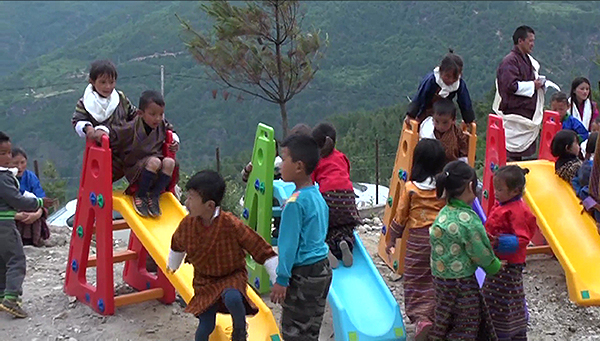 horizons.
A parent named Changom said at homes, they do not have modern playing facilities and being a farmer, she hardly gets time to play with her children. She added that at ECCD, her children can have ample time to play as well as learn.
Like Changom, other parents are also expecting a major renaissance in social bringing of the children after the establishment of the ECCD.
The Chief Dzongkhag Education officer says accessibility of rural children to ECCD centers has helped the children with social, emotional, and learning developmental needs in primary schools.
"Firstly, children get ready in terms of cognitive development and secondly they gain relationship and social skills which will bring positive impact on their behaviour and attitude," said Ngawang Dorji, Chief Dzongkhag Education Officer in Paro.
The centre was built by Loden Foundation (CSO) and financial support came from UNICEF. Today, there are 16 ECCD centres in Paro.