App connecting drivers and passengers launched
Sonam Choden, Thimphu

Dec 30, 2016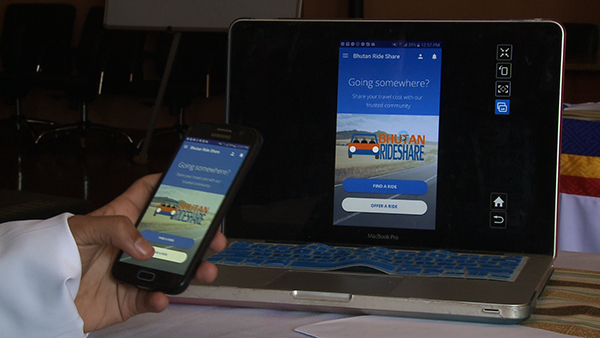 Drivers and passengers will now be able to connect with each other online through a mobile app called Ride Sharing App. The app will connect both drivers and passengers travelling to the same destinations in Bhutan.
The app was launched in Thimphu, today.
Tshewang Rinzin, 24 is a man behind the new app.
"Using the app they can enter the starting and end destination points. The app will provide list of rides available towards the passenger's direction."
He said the passengers can also check for some information like the departure, arrival time, and luggage size.
He also said the app will have ratings and reviews of drivers.
Once the ride request is accepted, the driver can also check the passenger's details.
It took a month for Tshewang to come up with the app.
Similarly, another mobile app called Bhutanese Movie Database (BMDb) was also launched.
The app will allow the viewers to rate and book movie tickets online.
These two  apps are the winners of this year's open mobile phone app development competition organized by the Swiss Agency for Development and Cooperation (SDC) in Bhutan.
It was organised in collaboration with the Gross National Happiness Commission and Government to Citizen Office.