Relocated students from Phuentshogling move to Phaduna in Punakha
Aug 31, 2021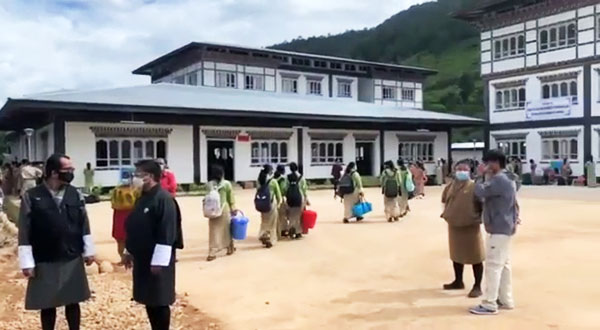 The students of Phuentshogling who have been relocated to Punakha have begun moving to their new campus from today. With sporadic community infections ongoing in Phuentshogling, schools have remained closed while students have been learning their lessons online. In line with His Majesty's concern over the impact on their education, the Southern COVID-19 Task Force recommended moving the students of classes IX and above to a low-risk zone.
Appropriate facilities were needed urgently for the students to move as quickly as possible and continue their studies at the earliest. Therefore, His Majesty The King commanded the Royal Academy Construction Project and the Royal Bhutan Army to work on refurbishing the identified campus in Punakha.
The new campus was readied in record time, with the construction of additional hostels and toilets, so that the students and faculty could study in a safe and comfortable environment.
All the students, who have successfully completed their 14-day quarantine, are to be moved in by tomorrow.
Desuups have been deployed to assist in the construction of additional facilities for support staff who will be working at the new campus.
The people of Punakha also came forward in overwhelming numbers to volunteer their time and effort. They offered their help in the ongoing works at the school campus to ensure that those coming into the campus are warmly welcomed.
The volunteers expressed their solidarity with students and faculty, and their appreciation to the people of Phuentshogling for the sacrifices they have made.
Volunteers included numerous private individuals as well as teachers and students of other schools in Punakha, and teams from various organizations.
The Ministry of Education expressed deep appreciation for all the support from the construction teams as well as volunteers in Punakha for their support