JDWNRH to provide quality and diverse healthcare services with nine new services by this year
May 14, 2021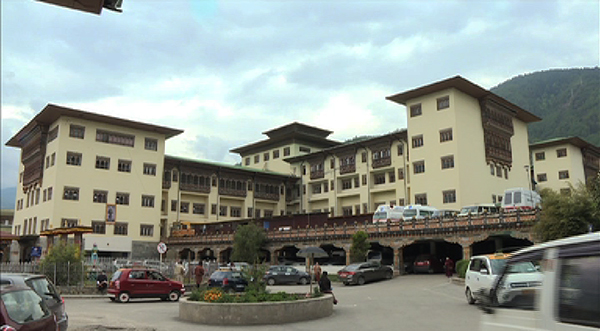 To reduce patient referrals abroad and to provide quality and diverse healthcare services, the Jigme Dorji Wangchuck National Referral Hospital (JDWNRH) is working to introduce nine new services within this year.
The hospital's surgery department has recently introduced minimally invasive surgery, which is any surgical procedure performed through tiny incisions. Since the surgery will be performed through smaller incisions, patients will likely have a quicker recovery time and less pain than traditional open surgery but with the same benefits.
And the department will also roll out two more services- pediatric urology and extracorporeal shock wave lithotripsy, by this year.
"Extracorporeal lithotripsy is a machine that can break down a stone in the kidney or in urine passage. So once the stone is broken by the wave, the stone comes out in the urine. The good thing about this is people don't need to be cut open to remove the stone," said Dr Gosar Pemba, the Medical Superintendent at the JDWNRH.
Similarly, pediatric urology is a surgical subspecialty of medicine dealing with the disorders of children's genitourinary systems.
The hospital will also provide bone densitometry and bronchoscope services.
"Bone densitometry is to check the density of the bone especially when they demineralised due to lack of certain nutrient like calcium and especially, it is common in the menopaused women. We plan to introduce bronchoscopy services, which is using an instrument that can go down into your trachea and lungs whereby we can take a biopsy to diagnose cancer," Dr Gosar Pemba said.
Other new services would be a joint replacement- a surgical procedure in which parts of an arthritic or damaged joint are removed, dental implantation to treat severe teeth problems and dermatology laser for skin problems.
Cath lab, which is also a new service in the offing, would be an examination room equipped with diagnostic imaging equipment to detect heart-related diseases.
Due to the ongoing pandemic, training of the health workers to provide these services was on halt, hence delaying the implementation.
"In some, it is just that the health workers need to pick up again since they have not been doing it. In some, it is completely new skills that they will have to learn. Since 2020 when the pandemic started, we could not send our staff for short-term training, which has delayed the implementation of most of our new services in the hospital," he added.
However, the hospital management is all to start these healthcare services within this year.
Choni Dema