Thousand butter lamps and Mithrub Tongchhoe for COVID-19 victims in India
May 11, 2021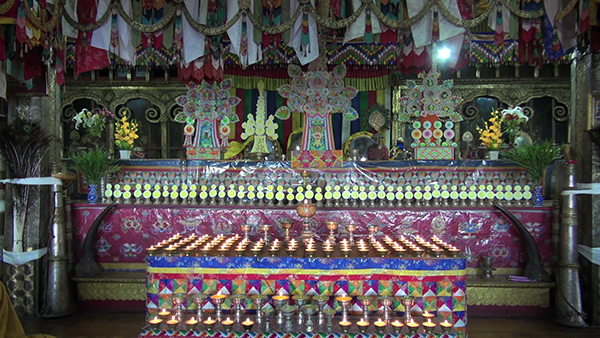 Coinciding with the auspicious day of the 30th Day of the Third Month of the Lunar Calendar, Yum Thinley Choden offered Mithrub Tongchhoe, thousand prayers for the victims of COVID-19 in India, at the Talo Sangngak Chholing Shedra in Punakha today.
The prayer ceremony was presided over by the Principal of the Shedra and conducted by more than a hundred monks.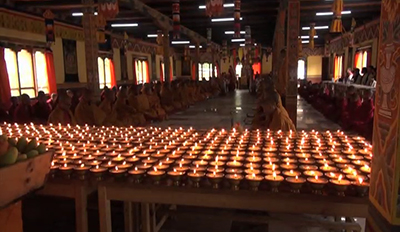 Similarly, the people of Dokar Gewog in Paro offered a thousand butter lamps and Mithrub Tongchhoe for the victims of COVID-19 in India, today. More than 160 monks performed the prayer ceremony at the Serlung Pekar Chholing Buddhist Institute in the gewog.
According to Tashi Dorji, the Principal of the institute, Mithruba is the name of a Buddha and "if we offer prayers to this Buddha all of us including the deceased will benefit. Wherever the deceased is, if we visualise them to be here and offer prayers, it will benefit them," he said.
People in the gewog voluntarily coordinated among themselves and came up with the programme.
"People are aware that we are dependent on India for any sort of assistance. When they are in need there is nothing we can do to help, all we could do is to offer our prayers. It will benefit all and moreover, those affected by the pandemic will also benefit from the programme globally," said Lhab Tshering, the Dokar Gup.
"We discussed the idea with the elderly in our village and decided to conduct this ritual as India is suffering. They shared the vaccines with us. For it we are grateful and this programme is a small gesture from us," said Pem Tshering, a Resident of Silu-Goenba in Dokar.
"India and Bhutan share a good relationship since our forefathers time. Moreover, many people are dying from COVID-19. They might not have received any blessings as well. So we came up with this plan," added Tashi, from Sali in Dokar.
The Indian Prime Minister, Narendra Modi in his tweet said he discussed the pandemic situation with the Prime Minister, Dr Lotay Tshering. The Indian Prime Minister thanked Bhutan for the solidarity and prayers expressed by the leaders and people of Bhutan.
Changa Dorji/Namgyel Wangchuk