The wait is getting longer for stranded people in Phuentshogling
Aug 31, 2020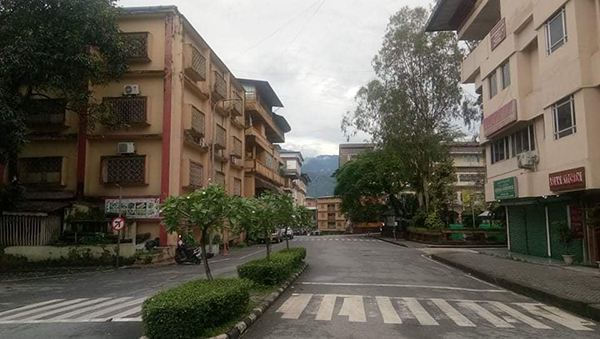 Over a thousand people and 300 vehicles are still stranded in Phuentshogling since the beginning of the nationwide lockdown. And the emerging new cases every day from the town is making their chance to leave for home harder.  
A group of people were supposed to leave on Saturday. All tested negative on the rapid antigen test and the 27 new cases from DANTAK cluster in Phuentshogling halted their travel plans. Over 100 people in two batches left Phuentshogling in the past week, those left behind are getting desperate now.          
"I haven't been able to pay bills for two hotels. But I have requested the hotel owners that I will pay when I am able to work after the lockdown. We have done the test twice. Once on the 16th and then again on the 28th. We were tested negative," said  Gado, from Jabana under Nagya Gewog in Paro.
"If we can move up, it would be convenient for us. First of all, it won't incur a loss to the government and secondly, we will be in our homes while in Thimphu. If we stay here for longer, not just the Coronavirus, we might contract dengue too. The food needs to be brought from outside for us. This poses us at risk to the virus," added  Pema Wangchen, a bus driver from Thimphu.
The Prime Minister's Office on its Facebook page posted, yesterday, that stranded people in Phuentshogling are released after conducting tests to avoid any risk of transmission. Measures are in place to send people from Phuentshogling; the task force is now waiting for a government directive.
In Thimphu, over 6,000 people have moved out to other districts during this lockdown, mostly to Punakha, Paro, and Wangdue Phodrang. The Thimphu Dzongkhag alone handled the movement of over 5,500 people and over 2,100 cars since 14th August.
The Central COVID-19 Taskforce is facilitating the outward movement of people who do not have their own cars and so far, about 750 people were sent in buses. Over 4,000 people initially registered and with more people registering, the taskforce is facilitating movement first for those who registered earlier.
And in Samtse, 23 stranded cement truckers were supposed to leave Gomtu, today via Indian town of Birpara. But with the town under lockdown, the truckers will only be able to leave for Samtse tomorrow. Once in Samtse, they will be sent in two batches towards Phuentshogling.
Sherub Dorji