Screening people at entry points to prevent the spreading of coronavirus
Feb 15, 2020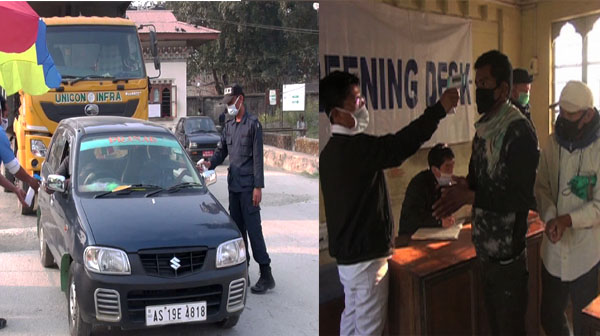 The Ministry of Health is rigorously screening people at the entry points in the country in order to prevent the spreading of the coronavirus (COVID-19) in the country.
This came after the World Health Organization declared coronavirus outbreak a global health emergency. Though there is no case of the COVID-19 infection in the country, people are concerned about its outbreak in the neighbouring countries.
As the death toll due to the COVID-19 has increased to 1,526 with 143 new deaths in China as of yesterday and the total number of confirmed cases increased to more than 67,000 which includes 66,492 infections in Mainland China, the Ministry of Health is doing its best in screening people at the entry gates in the country.
In Phuentshogling, health staff, police, desuups, immigration, customs and Bhutan Agriculture and Food Regulatory Authority are using non-contact infrared thermometers and thermal scanners in screening people entering the country from the four entry points in the town. If a person has high fever and comes from infected places, they have to fill the health declaration form and will be referred to hospital. However, not a single person has been found showing the COVID-19 symptoms.  People are happy with the initiative taken by the government.
"Everybody these days is concerned about the coronavirus. Be it regular conversations or social media updates, we see a lot of discussions on it. Here in Phuentshogling, we see health staff working tirelessly screening everyone at the entry gates. We feel happy with the government for taking such initiative during such an event," said Pemba, in Phuentshogling.
"I came here from Thimphu to attend a workshop. Here in Phuentshogling, I see everyone very concerned about the coronavirus. Though the virus has become a global issue, we feel less worried when the government takes such screening programmes seriously at entry points," added Rinchen Dema, at Phuentshogling.
The Ministry of Health plans to undertake the screening until the virus is eradicated.
Sonam Penjor