Youths recognised for their contribution to community
Komal Kharka, Thimphu

Aug 13, 2019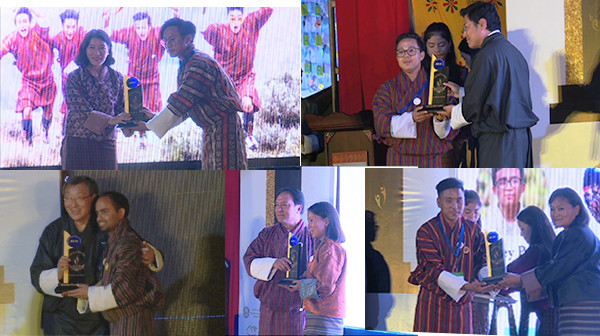 Youth volunteers and groups were recognised for their contribution to the development of the community and youth at the National Young Achievers Award in Thimphu yesterday coinciding with the International Youth Day.
Seven different categories -Young Volunteers Award (Senior and Junior), Young Creative Leader Award ( Senior and Junior), Young Community Influential Group Award, The North Star Award and the Young Changemaker Award were presented.
The awards were presented to young achievers, who have proved themselves of all the praises and recognition for their efforts towards the development of a positive community. The awards also acknowledge individuals and groups for demonstrating initiative and innovations.
"In 2014, I have started a youth-led group known as Bhutan Sharing and Loving volunteer group for the noble cause and today I am happy to to be recognised for my work," Amrith Bdr Limbu, the recipient of the Young Volunteers Award Senior category, said.
"I am very happy and privileged to receive this prestigious award. I promise that I will do my best in everything I do with honesty and integrity," Tashi Wangmo, the recipient of the Young Changemaker Award, said.
The first National Youth Awards was held last year, this year it was renamed to National Young Achievers Award.
The Youth Caring Community (YCC) says such awards will help in bringing social heroes to the limelight and recognise un-heard and un-celebrated individuals. It will also encourage young individuals to take initiatives and social responsibility.
The event was organized by the YCC and Nazhoen Lamtoen. YCC is a youth-based group of young Bhutanese individuals, coming from diverse educational backgrounds. Nazhoen Lamtoen is a Civil Society Organization (CSO) assisting and supporting young individuals.