Dialogue between youths and young parliamentarians
Tshering Dendup, Thimphu

Aug 13, 2019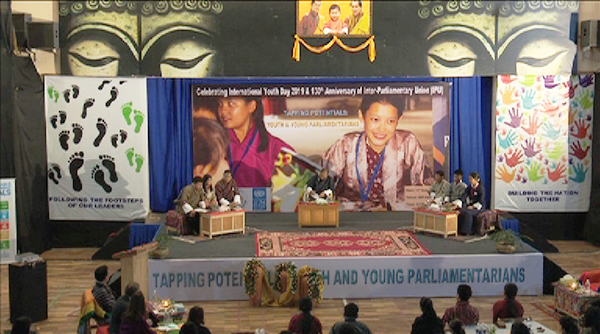 From strengthening education through technology, unemployment and the impact of social media, the first-ever dialogue between the young parliamentarians and youths saw discussions on some of the pertaining youth issues.
The dialogue was held yesterday in Thimphu to celebrate the International Youth Day and the 130th Anniversary of the Inter-Parliamentary Union (IPU), of which the Parliament of Bhutan is a member.
Over 20 members of parliament ( MPs) under the age of 45 met with more than 100 youths to discuss various current youth issues. A panel discussion on the theme of "Youth and Young Parliamentarians: Tapping the Potential of Youth" was also held.
Such dialogue is expected to establish strong linkages between the Parliament and the Youth.
"What I observed today is there is not much difference in thinking between the young parliamentarians and the youth. So I feel it is really important to have such interactions between them. Many youths were expressing their concerns and problems. We completely understood them and If such programs are held frequently, It would help us to discuss extensively and deliberate the issues during the parliamentary sessions," the National Assembly's Speaker Wangchuk Namgyel said.
"Such platform enables us to share our problems openly and reach out to the top policymakers," Palden Tshering Yangchen, a participant said.
The event was organised by the Parliament of Bhutan in collaboration with the Bhutan Youth Development Fund and UNDP Bhutan.