Indian teachers who served in Bhutan honoured
Samten Dolkar, Kolkatta

Jan 8, 2019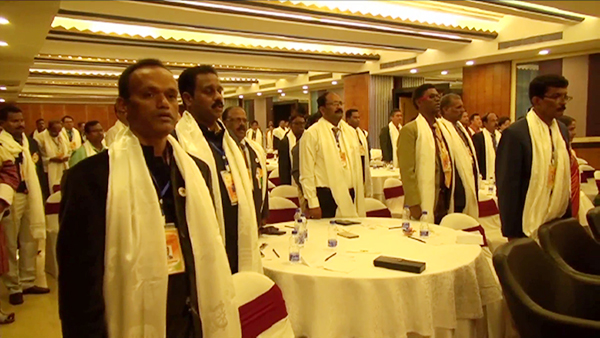 The education ministry hosted a reception in Kolkata, West Bengal on Sunday in honour of Indian teachers who previously taught in Bhutanese schools.
Close to 80 of them attended the reception.
Last year, some 43 retired Indian teachers who had served in Bhutan joined the Teachers' Day celebrations in Thimphu.
The reception in Kolkata was hosted for those teachers who could not make it to the celebrations last year. A few teachers who attended the celebrations last year also came though.
It was also to celebrate 50 years of diplomatic relations between Bhutan and India.
55-year-old Dr Vijay Kumar Jha was among the crowd of former teachers at the reception.
His teaching career in Bhutan began from Punakha Higher Secondary School in 1997. Vijay Kumar Jha couldn't make it to the Teachers' day celebrations due to health reasons.
He was diagnosed with tongue cancer at a very young age, but was cured.  Four years ago, the cancer relapsed and he's been undergoing treatment since. He lost his speech after a surgery.
He was overjoyed to be at the reception. "This event is very warm," he wrote. "It would motivate the teachers who are still working in Bhutan."
Others shared the same excitement and joy.
"I am really privileged to be a part of this programme, which is a first of its kind. Bhutan, you are great," Nilima Barla said.
"The students we taught hold important positions now. I hope this type of event will be organized in the future also and we get to interact with our students," Y. Yamdagni said.
"I am very happy," Jija Krishna said.
The education minister who graced the ceremony talked about how some of these teachers served Bhutan in difficult times.
"In addition to the government of India's support in school infrastructure development and teaching learning materials, we gained a lot from the unwavering efforts of the Indian teachers who came to Bhutan," Minister Jai Bir Rai said.
"They walked for days to reach some of the most remote places in the country where there was no electricity, telecommunication facilities and roads."
Currently, there are 121 teachers from India placed in schools across the country.