DNT reveals 46 candidates
Samten Dolkar, Thimphu

Jun 1, 2018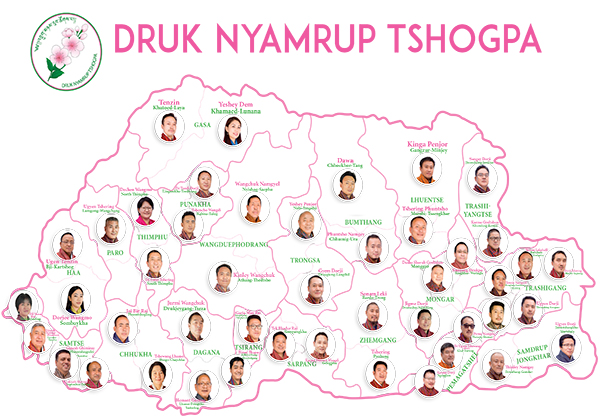 Druk Nyamrup Tshogpa (DNT) formally gave party tickets to 46 candidates from various constituencies today. The party's Dokar_Sharpa candidate from Paro is processing his resignation and his candidature will be announced soon, says the party president.
Of the 46 candidates announced today, 41 are men and five women.
From Bumthang, Phuntsho Namgey, a former contractor, will represent the party from Chhumig_Ura Constituency. Dawa, a former Broadcast Journalist, will contest from Chhoekhor_Tang Constituency.
Tshewang Lhamo, a former Parliamentarian, will represent Chhukha's Bongo_Chapchha Constituency, while Jai Bir Rai, a former Economist and Financial Specialist, will represent Phuentsholing Constituency.
From Dagana, the party has a former Human Rights Specialist, Jurmi Wangchuk, representing it from from Drukjeygang_Tseyza Constituency. Hemant Gurung, a former Parliamentarian, will vie for a seat in the National Assembly from Lhamoi Dzingkha_Tashiding Constituency.
Tenzin, a Community Worker, will represent DNT from Gasa's Khatoed-Laya Constituency, while Yeshey Dem, a young university graduate, will stand from Khamaed_Lunana Constituency.
A former Parliamentarian, Ugen Tenzin, will represent Bji_Kartshog Constituency in Haa and Dorjee Wangmo, a former ICT Officer, will represent Sombaykha Constituency.
Likewise Tshering Phuntsho, a former Researcher, will represent Maenbi_Tsaengkhar Constituency in Lhuentse and Kinga Penjor, a former Broadcast Journalist, will represent Gangzur_Minjey Constituency.
Kunzang Drukpa, a former Special Educationist, will represent Monggar's Kengkhar_Weringla Constituency. Dasho Sherub Gyeltshen, a Public Administrator, will represent Monggar Constituency and Jigme Dorji, an Education Consultant, and a Researcher will represent Dramedtse_Ngatshang Constituency.
From Paro, Ugyen Tshering, a former Parliamentarian, will represent Lamgong_Wangchang Constituency.
Dr. Tandi Dorji, a former Pediatrician, will represent Punakha's Lingmukha_Toedwang Constituency and Tshencho Wangdi, an Entrepreneur, will represent Kabisa_Talog Constituency.
A former Electrical Engineer Karma Dorji will represent Nganglam Constituency of Pema Gatshel and Pema Wangda, a former Labour Secretary, will represent Nanong_Shumar Constituency. Dr Ugyen Tshewang, a former NEC Secretary, will represent Khar_Yurung Constituency.
Thinley Namgay, a Community Worker and an Entrepreneur, will represent Dewathang_Gomdar Constituency, while Ugyen Dorji, a Human Resource Officer, will represent Jomotshangkha_Martshala Constituency.
Dinesh Kumar Pradhan, a Former Educationist, will represent the party from Ugyentse_Yoeseltse Constituency of Samtse. Loknath Sharma, a Transport and Community Service Worker, will represent Dophuchen_Tading Constituency. Similarly, Dil Maya Rai, a Social Development Specialist, will contest from Tashichhoeling Constituency. Ganesh Ghimiray, a businessman, will represent Phuentshopelri_Samtse Constituency.
From Sarpang, Tek Bhadur Rai, a Civil Engineer, will represent Sompangkha Constituency and Karma Donnen Wangdi, a former Parliamentarian, will represent Gelephu Constituency.
From Trashigang, the party has Dorji Tshering, a Civil Engineer, contesting from Radhi_Sakteng constituency and Tenzin Lekphell, a former Management Specialist, from Bartsham_Shongphu Constituency. Tenzin Namgyel, a former Broadcast and Print Journalist, will represent Kanglung_Samkhar_Udzorong Constituency and Ugyen Dorji, also a former Journalist, will represent Thrimshing_Kangpar Constituency. Jigme Wangdi, an Educationist, will represent Wamrong_Lumang Constituency.
From Thimphu, DNT has its president Dr. Lotay Tshering, a former consultant Urologist, as the candidate from South Thimphu Constituency. Dechen Wangmo, a former Public Health Specialist, will represent North Thimphu.
From Trashi Yangtse, Sangay Dorji, a former RCSC Commissioner, will represent Boomdeling_Jamkhar Constituency. Karma Gyeltshen, a former Business Administrator, will represent the party from Khamdang_Ramjar Constituency.
From Trongsa, the party has Yeshey Penjor, a former Environment and Civil Engineer, standing from Nubi_Tangsibji Constituency. Gyem Dorji, a former Environmentalist and a Forester, will represent Draagteng_Langthil Constituency.
Garja Man Rai, an IT Engineer will represent Sergithang_Tsirangtoed Constituency of Tsirang and Bimal Thapa, a graduate and a farmer, will represent Kilkhorthang_Mendrelgang Constituency.
Wangchuk Namgyel, an Educationist will represent Nyishog_Saephu Constituency of Wangdue Phodrang and Kinley Wangchuk, a former Business and Media Consultant, will represent Athang_Thedtsho Constituency.
From Zhemgang, Sonam Leki, a former Educationist, will represent Bardo_Trong Constituency and Tshering, also an Educationist, will represent Panbang Constituency.
"Winning or losing is never on our mind. We would like to offer this country and the Bhutanese people a good choice," Dr Lotay Tshering, the President of DNT, said.