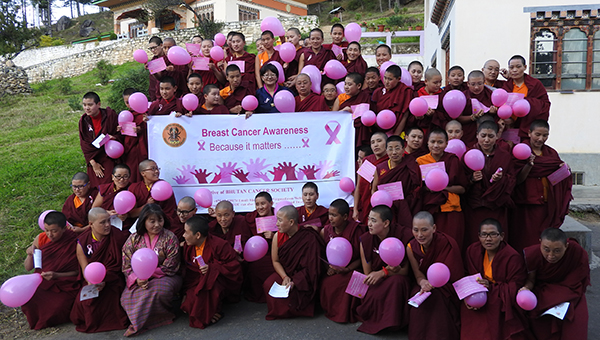 Believing the nunneries do not have easy access to awareness programmes and services related to women's health, the Bhutan Cancer Society began a health project for the nunneries.
Called Women's Health Programme, the project is a part of a preventative programme for religious institutions launched in 2017.
The programme began at the Sisina Shechen Nunnery in Thimphu last year. The nuns were taught how to do self-breast examination.  "We haven't heard of breast cancer until one of our friends was diagnosed with it," Tashi Chenzo, one of the nuns said.
"Thereafter, the Bhutan Cancer Society came here and gave us practical advice on how to do self-breast examination. Prior to that, we were very hesitant to go to hospital for breast checkup. But during the programme we were told it is very common among women and even men in some cases. We were advised to visit hospital for checkup if there are any lumps or abnormalities."
Tashi Chenzo added that they now do self-breast examination while bathing.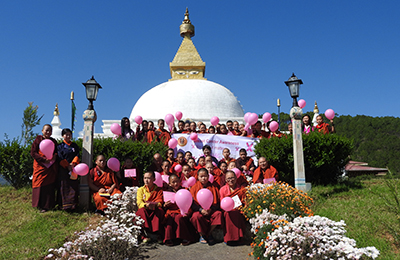 Dechen Wangmo of the Bhutan Cancer Society said the general population has access to internet and can google, or ask relatives and friends, but nuns do not have this luxury.
"They are institution based and they have very little time to explore beyond their premises. So that's why we wanted to make it available for them," she said.
The initiative initially began as a knowledge sharing programme at a nunnery in Punakha. "They are the ones who suggested that it will be very good if the services related to not just cervical cancer and Pap smear but also menstrual can be provided because they really don't have time to go to hospitals," Dechen Wangmo said.
Nuns also hesitate to visit hospital for genealogical problems for other reasons. "First of all, before becoming nuns, they are women and they have all problems related to menstrual and gynecological problems, but they said they feel very shy to approach health workers. So, we said we will bring the service to them," Dechen Wangmo added.
The Bhutan Cancer Society together with the Bhutan Nuns Foundation and health ministry is taking the programme to 10 other nunneries in Bumthang, Paro, Punakha and Zhemgang.