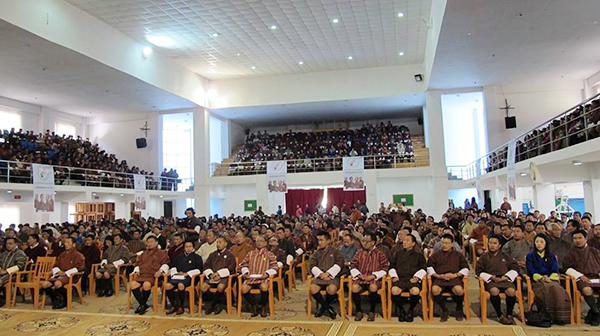 With an overwhelming 1,126 Yes votes, Druk Nyamrup Tshogpa (DNT) has elected Dr. Lotay Tshering, its South Thimphu candidate, as the party President at its General Assembly held yesterday.
A total of 1,155 supporters at the convention voted.
Dr. Lotay Tshering said if given a chance, he will make a difference in the country and that five years is long enough to bring about significant changes.
He added that politicians are more concerned about finding ways to recontest than bringing developments. They also always think what they do is right and do not listen to what others say and suggest. Such approach and attitude, he said, is concerning and would bring problems in the country in the future.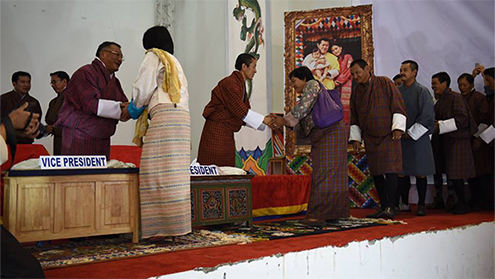 Dasho Sherab Gyaltshen, DNT's candidate from Monggar Constituency, has been elected as the Vice-President. He too secured a resounding 1,086 Yes votes of the total 1,158 votes. He was previously the Secretary of the Dzongkhag Development Commission (DDC).
Handing over presidentship to Dr. Lotay Tshering, former DNT President Dr. Tandin Dorji raised concerns over the widening gap between the rich and the poor and said the DNT will works towards narrowing the growing gap.
The poor will be provided equal or more opportunities.
Both the parties of the past, he said, got opportunity to address the issue as a ruling party but failed to reduce the gap. In fact, he said the gap between the rich and poor increased over the last ten years.
Dr. Tandin Dorji also revealed the party has confirmed candidates from all 47 constituencies
The DNT held its General Assembly at the Royal Institute of Management Hall in Simtokha, Thimphu. The meeting drew an overwhelming crowd of supporters and observers. The RIM hall, which can accommodate up to three thousand people, was packed.
Some of supporters who spoke BBS said they are convinced DNT will work towards bringing equality.
"If they come around visiting our villages, we will be able to share our problems and that will help them in realizing their goal of bridging the gap between the haves and have-nots," Jamtsho from Sakteng in Trashigang said.
"Druk Nyamrup Tshogpa will support the poor. There's no doubt, I am sure about it," Mon Bdr Mongar said. "That is why we are supporting them. I believe in their motto of reducing the gap between the rich and the poor."
"The past governments have served well. It's just that we would like to give equal opportunity to this party as well," Om from Paro said.
Druk Nyamrup Tshogpa, as a party came, into being in May 2012.