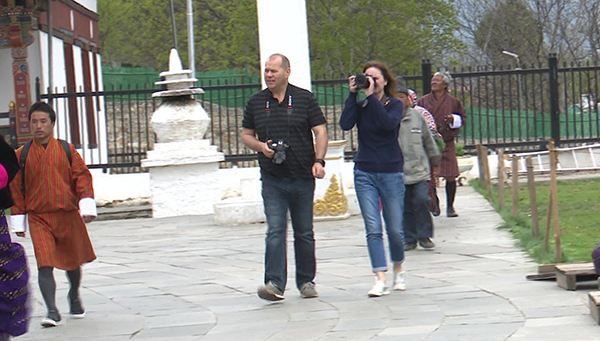 More than 250,000 tourists visited the country last year, recording the highest number of tourist arrivals so far. This is as per the Visitor Arrival Statistics report of 2017. The report was released recently by the Tourism Council of Bhutan (TCB).
Of the total tourists who visited last year, more than 71,000 were international tourists. And around 183,000 regional tourists came to the country. However, this number is less than compared to the past years. Most of them came to the country to witness Bhutan's unique culture and traditions.
TCB officials spelled out the reasons for the increased number of tourist arrivals.
"One of the reasons is arrivals from Korea played an important role last year. We got quite a number of Koreans coming to Bhutan because of the special offer that the government made," said Damcho Rinzin, the Media Spokesperson of TCB. "Other reason is the continued promotional efforts from the Tourism Council of Bhutan in collaboration with tour operator."
Country wise, the number of tourists from the US was highest last year. Over 9000 tourists from the US came to Bhutan last year. Compared to 2016, gross earnings from tourism also increased by 8.2 per cent which amounts to almost US$ 79,000.
"About 80m US dollars were generated in terms of tourism earnings. Out of that, little over 22m US dollars were collected as direct government revenue; this is just the 65 dollars that we collect from tourists," added Damcho Rinzin. "This does not include visa fees, taxes that the government collect and other forms of revenue that the government would look at."
Creating awareness to potential businesses, inviting right kind of media to Bhutan and supporting international tour operators are some of the promotional strategies by TCB. Though most of the tourists have positive feedback, lack of proper roadside amenity is one of the challenges faced by the tourists.