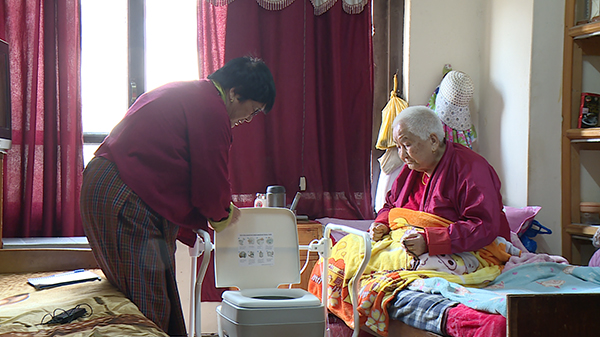 One of the biggest challenges for people who are bed-bound or with limited mobility, such as the sick, the old and the disabled, is getting up to use bathroom. But access to beside toilets is making their lives easier.
Eighty five-year-old Tshering Dendup, who has been bed-ridden for nine years now, knows this more than anyone.
After seeing a post on the social media about the availability of beside toilets in Bhutan, Tshering Dendup's son immediately bought one for his father.
"Unlike in the past, I now don't have to change my mattress every day," Tshering Dendup said.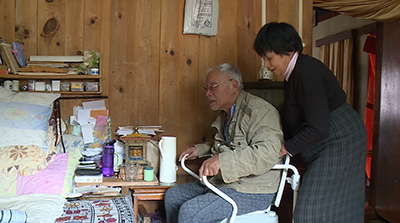 "It's very convenient to use. There is a flush system in it and it's very clean."
The bedside toilets also have armrest facilities, which make it easier for the patients to use it independently.
Gokeey Pem, a patient attendant is all praises for the facility. "My sister is 86-year-old and when she is sick, she can't go to the toilet," Gokeey says of her sister.
"At such times, she uses the bedside toilet and I think it's very useful for all those who cannot see or walk."
The Bhutan Toilet Organisation, Bhutan's first non-profit organisation committed towards building a toilet culture in the country, provides such toilets free of cost to all those who cannot afford to buy one.
For Chalop Passang Tshering, the founder of Bhutan Toilet Organization, bedside toilets protect patient independence and dignity. "One thing about this toilet is, it gives them dignity," he said.
"When you are sick, disabled or old, family members will take care of you to a certain time. But when it comes to toilet, it's dirty, smelly and an embarrassing thing also. So, what happens to these people is they cannot tell and sometimes you let it go in the bed. It is a very messy thing. It takes away all the dignity from a person's life. But with this toilet, I think we are giving people dignity."
The Bhutan Toilet Organization procured the first such toilet in January last year. A set of bedside toilet costs Nu 15,000 in Thailand.
Though not many in the country are aware about the existence of such toilets, the organization says the demand for such facility has been growing.
The organisation has 20 more toilets at the moment to be given away to the needy ones.
The Bhutan Toilet Organisation also provides training to the caregivers on how to use it.