Vajrayana summit to commemorate 50 years of Bhutan-India's diplomatic ties begins
Choni Dema, Thimphu

Mar 28, 2018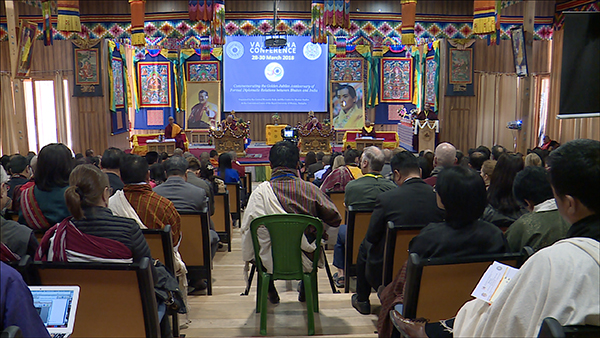 As part of golden jubilee celebration for the establishment of formal bilateral ties between Bhutan and India, the three-day long Vajrayana summit began in Thimphu, today. Apart from great friendship, the two countries share many common values and history. Among them, one enduring commonality is 'Buddhism.'
More than 250 global Buddhist scholars and practitioners, and local spiritual figures came together for the Vajrayana conference.
The global Buddhist scholars are from 30 countries: Austria, Australia, Bangladesh, Canada, China, Finland, Germany, Greece, Hungary, India, Indonesia, Italy, Japan, Malaysia, Myanmar, the Netherlands, Nepal, Norway, Philippines, Portugal, Singapore, Sri Lanka, Slovenia, South Korea, Spain, Sweden, Thailand, UK, USA and Vietnam.
They will exchange knowledge and perspectives on Vajrayana Buddhism's core practices while exploring their relevance and function within contemporary culture. The conference will essentially highlight the shared heritage of Buddhism between Bhutan and India.
Some of the foreign Buddhist scholars lauded Bhutan for having Gross National Happiness (GNH) as the core of development paradigms.
"One of the visible results of the practice of Buddhism is the adoption of the principle of Gross National Happiness. Unlike countries where GDP is tool to measure growth, progress and development, Bhutan has used GNH to measure its growth," said Lama Lobzang, the Working President of International Buddhist Confederation (IBC), India.
He added GNH is all about valuing people's happiness, which is key component of Buddhist philosophy.